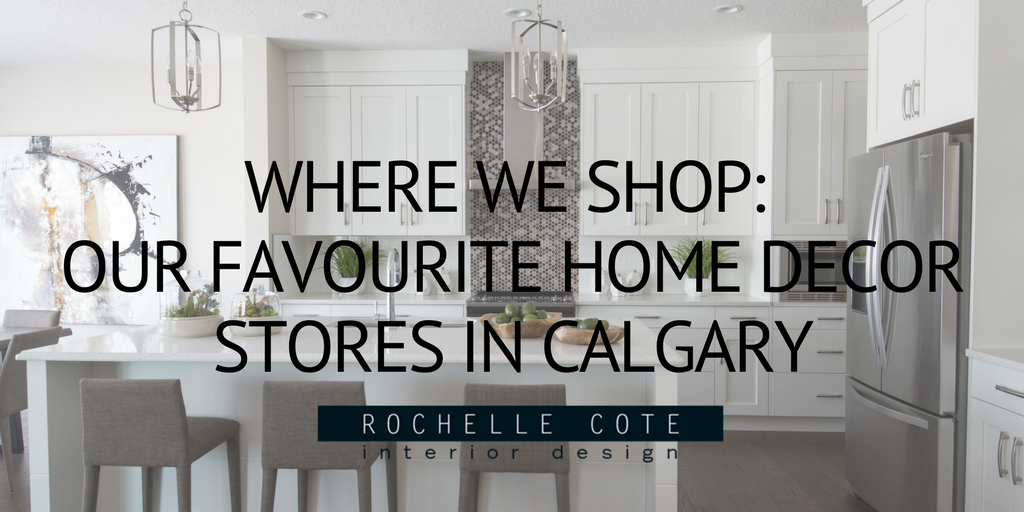 OUR FAVOURITE HOME DÉCOR STORES IN CALGARY
While we do a lot of our shopping online, there are still just some things that you can only find in stores. We at RCID set up tons of showhomes and client homes each year and here are some of our favourite retail home décor stores that help us finish off the look.
Homesense
While Homesense can be a hit and miss for furniture, it is one of our favourite places to shop for accessories. Just like the commercials say, "the place where you find everything you weren't looking for" and I think that fits it to a T. Homesense is constantly stocking their shelves with new items, making it the perfect place to find the different and interesting accessories. Homesense has great selections at a great price, which is one of the reasons we love this store. Whether it is florals, pillows or decorative accessories, you are sure to find something that fits your style!
Bondars
Bondars is the place to be if we are talking about furniture. Some of our favourite finds are the bedroom sets and custom dining tables! With hundreds of customizable furniture pieces it is easy to find something that fits you and your home. Keep in mind that customization takes time and money, so don't be surprised to wait awhile before you can get those hot little items into your home.
CF Interiors
Located just off of Heritage Dr, CF Interiors is easy to find. With an assortment of furniture and accessories it is easy to put the finishing touches on any room. We love working with Jim, the store manager at CF Interiors. He is always eager to help you find what you are looking for and go the extra mile. CF interiors has some items that you can buy off the floor, which is nice if you are looking for something quick and easy.
Photo Credits:
https://cdn.shopify.com/s/files/1/0168/1304/files/CF_Icon_-_Green_cea66d23-8496-4d71-9aa5-f8af983de99e_410x.png?v=1521080243
http://www.homesanddesign.ca/in-the-news-12/
http://www.irmcs.asia/content/cf-interiors
https://www.google.com/imgres?imgurl=https%3A%2F%2Fs3-media2.fl.yelpcdn.com%2Fbphoto%2FqignaSqliKNTRy-othK2gA%2Fo.jpg&imgrefurl=https%3A%2F%2Fwww.yelp.ca%2Fbiz_photos%2Fbondars-calgary-2%3Fselect%3DqignaSqliKNTRy-othK2gA&docid=EtU5NXnWkoDBtM&tbnid=yA3WtFWr9z29LM%3A&vet=10ahUKEwiT8eeq4PLaAhWQnoMKHVlTCoQQMwibAShVMFU..i&w=975&h=618&itg=1&client=safari&bih=689&biw=1240&q=bondars%20calgary&ved=0ahUKEwiT8eeq4PLaAhWQnoMKHVlTCoQQMwibAShVMFU&iact=mrc&uact=8
https://upload.wikimedia.org/wikipedia/commons/thumb/a/ae/HomeSense_Logo.svg/2000px-HomeSense_Logo.svg.png
http://vancouverweekly.com/11-hidden-furniture-store-gems-in-vancouver-56323-2/
https://www.spaceandhabit.com/home-design/homesense-opening-day-boston/