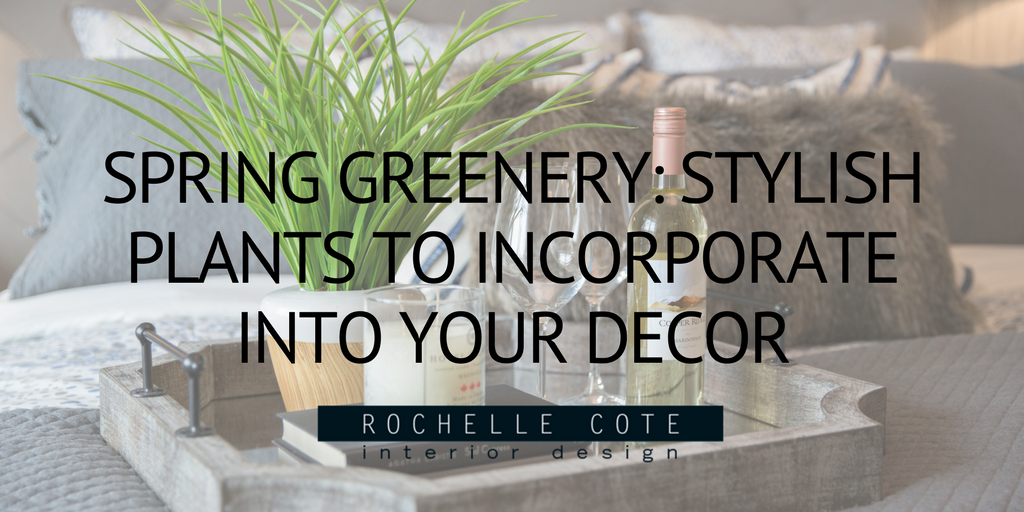 SPRING GREENERY: STYLISH PLANTS TO INCORPORATE INTO YOUR DÉCOR
Stylish Décor
Incorporating plants in your décor is becoming very popular. Plants not only brighten up your space, but can also add health benefits as well. Plants are very diverse and can be implemented in many ways. Some of the places we love to implement florals are bedside tables, coffee table arrangements, dining table features and kitchen islands. The small pop of life adds colour to your space, making it feel fresh, bright and airy.
2018 Trends
Believe it or not, but macramé is coming back in 2018. We are seeing tons of hanging plants, plants on plant stands, and plants in art, toss and bedding.
While succulents are still holding strong in 2018, we are also seeing an introduction of snake plants and cactus. Some of our floral favourites are orchids (always a classic), ferns (love the fullness and colour) and monstera leaves (so tropical! Makes us forget about winter… well, almost forget).
Low Maintenance
Let's be honest, we have all forgotten about that one plant in the corner that went from a flourishing flower to a wilting mess. Don't worry about it, we know you get busy and can't always find the time to fuss over your florals. The good news is that there are tons of plants that require very little maintenance to keep looking fresh and fabulous! Cactus, snake plants, and succulents are just a few of the plants that you can forget about it for a few days and they will still forgive you.
WANTED: Dead or Alive
Not everyone has a green thumb, but that doesn't mean you have to give up on plants all together. It's amazing how far the faux plants have come. I remember when faux plants were the gross looking plants that collected dust and you could spot from a mile away. These days there are so many advancements that most times, you can hardly tell they are fake. Adding faux plants will add that same desirable aesthetic without the maintenance.
Photo Credits:
Adrian Shellard Photography
https://www.pinterest.com/pin/64739313370675686/
https://www.pinterest.com/pin/AZVFkSNakhCSMuZ43eQFIZ-0lSa_v4MZgcZwjGuI0NBWxIVRDY8XW3o/
https://www.pinterest.com/pin/2462974775576858/
https://www.pinterest.com/pin/366902700875374183/
https://www.pinterest.com/pin/476537204315297504/
https://www.pinterest.com/pin/566538828115252805/
https://www.pinterest.com/pin/464996730270077423/
https://www.pinterest.com/pin/173247916893073790/