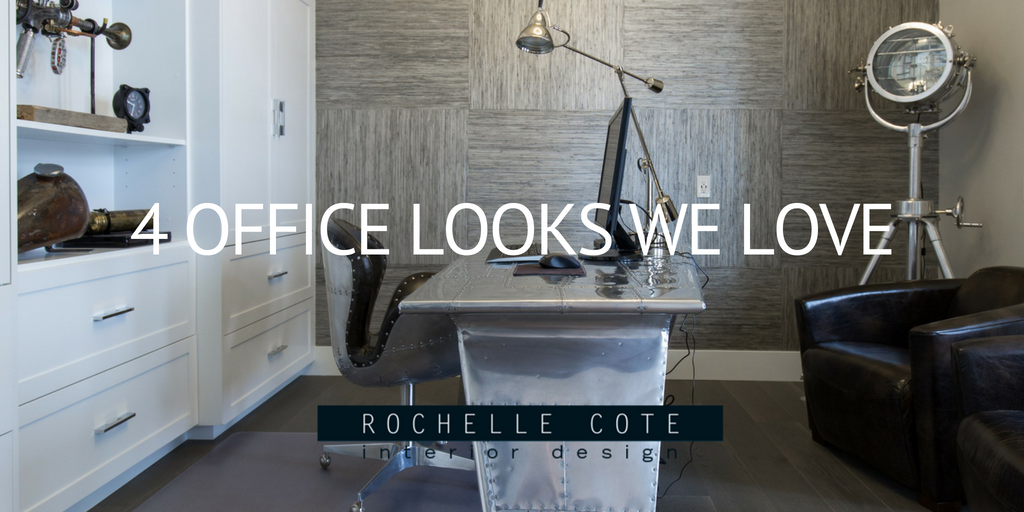 4 Office Looks We Love
Whether you work from home or just use it on an occasional space, an office is a personal space where you create ideas. That's why it is important to have an office that fits you. Here are some of the office looks we are loving!
Stylish Function
We understand that you can't always dedicate an entire room for a private office, but that doesn't mean you have to give up on the idea of a personal workspace. Whether it is a furniture piece or a built-in unit, you can easily create a useable office space by having a writing surface and stacking shelves above - building up instead of out to create adequate storage and working space.
Up Front and Center
There is nothing more dramatic than a freestanding desk. It may be a bit harder to wire, but we love the look! This iconic look is a showstopper for your home that is perfect if your office is in an area that people see often. But remember to keep in mind wires and how you will be connecting any electronic devices. No need to ruin the look with cords.
Creative Spaces
Offices don't always have to be for the traditional workspace. We love turning offices into craft or hobby spaces where you can get the creative juices flowing. Your space should suit you and your needs. We loved how these offices have space to create in and use interesting ways to display hobbies and supplies.
Fit to a 'T':
Not all offices are simple and clean, especially if you do a lot of paperwork or work full-time from home. For times like these, it is great to have built-ins. Built-ins are not only made to suit you and your requirements, but it will keep things organized and hide all the things we don't want people to see on a regular basis.
Whatever your space and whatever your budget, you can easily create an office space that fits you and your family. So get crackin' there is work to be done!
Photo Credits:
https://www.pinterest.co.uk/pin/173247916898262975/
https://www.pinterest.com/pin/253679391494231261/
https://www.pinterest.com/pin/543950461237414348/
https://www.pinterest.com/pin/573153490065325922/
https://www.pinterest.com/pin/64668944634291970/
http://decorologyblog.com/2018/03/amazingly-chic-home-offices.html/2052aba447da9c40cbfc5fdb545c47d0-1
https://www.pinterest.com.au/pin/219339444332580081/
https://www.pinterest.com/hellorose86/study/