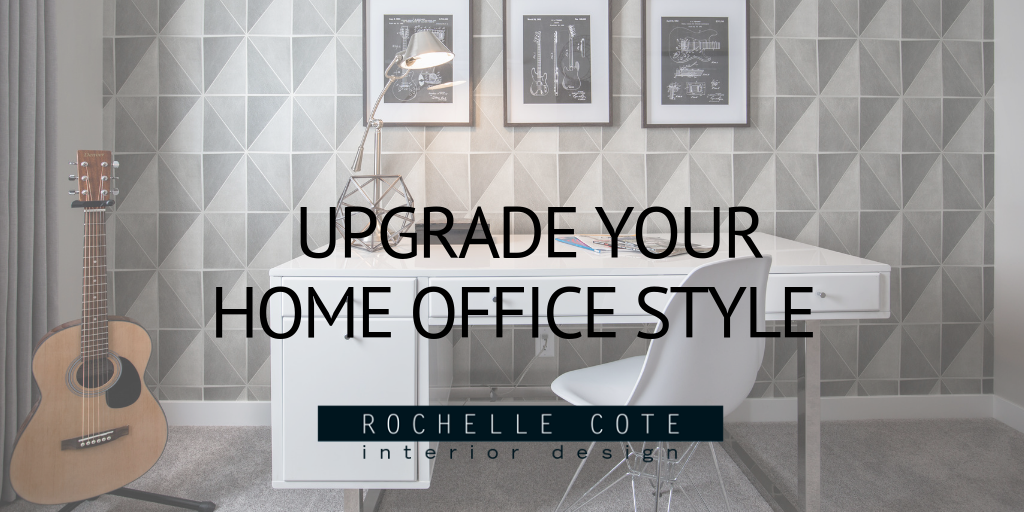 Upgrade Your Home Office Style
Let's be honest, our office is never really the main feature of our house or the first place we think to invest in. But, whether you work from home or just like having a space to do crafts or hobbies your space should inspire creativity and be a place where you can be confident in the work you are doing. So take a minute and upgrade your home office:
Keep It Organized
Whether you are using your space as a home office for work or you are using the space for your personal hobbies, it is easy for your space to become a dumping ground. But I can't stress how important it is to keep your space organized and clutter free. It not only looks ten times better, but it also makes it a lot easier to find what you are looking for! If you don't have built-in cabinets, try adding some files cabinets for your storage and just add a top for a clean look and an additional work surface. Or use baskets and bins to help keep things organized and in place.
Make It Your Own
All work and no play is never a good idea. So take the time to make your office your own and a place you want to be in. You will be more creative and be able to work better if you like the space you are in. Adding some personal touches such as favourite photos, a comfy chair or some plants will give your place a renewed atmosphere that will help spark those fresh ideas.
Light It Up
Okay, okay we know that your office is probably the last place you want to spend money, but if you can switching out the light fixture in your office it can provide a bold look. To have an effective work environment you should have at least two or three levels of light – overall light, natural light and task light. If you do focused work, a task lamp on your desk is a must. Natural light can promote effective work.
Time For An Upgrade
Office's may be for work, but that doesn't mean it has be boring. Switch things up! Ditch your old desk that faces that wall for a freestanding desk that opens up your views. If you don't work from your home and spend hours on end in your office, exchange your basic desk chair for an upholstered chair that is still comfortable but has more of a relaxed look. Even small changes like adding a floral to your desk can brighten up your space and make the world of a difference!
Photo Credits:
Adrian Shellard Photography
https://www.pinterest.com/pin/229894755954720272/
https://www.pinterest.com/pin/87186942756775475/
https://www.pinterest.com/pin/130745195406913859/
https://www.pinterest.com/pin/AeCuuiUrmN2Q1RmfveXNSgzgtqJB8aJh02AWQX9O3d1m3OKYZUtTLxg/
https://www.pinterest.com/pin/219972763030046752/
https://www.pinterest.com/pin/113293746856976467/
https://www.pinterest.com/pin/840625086673279572/
https://www.pinterest.com/pin/278660295677610312/
https://www.pinterest.com/pin/268245721532732351/