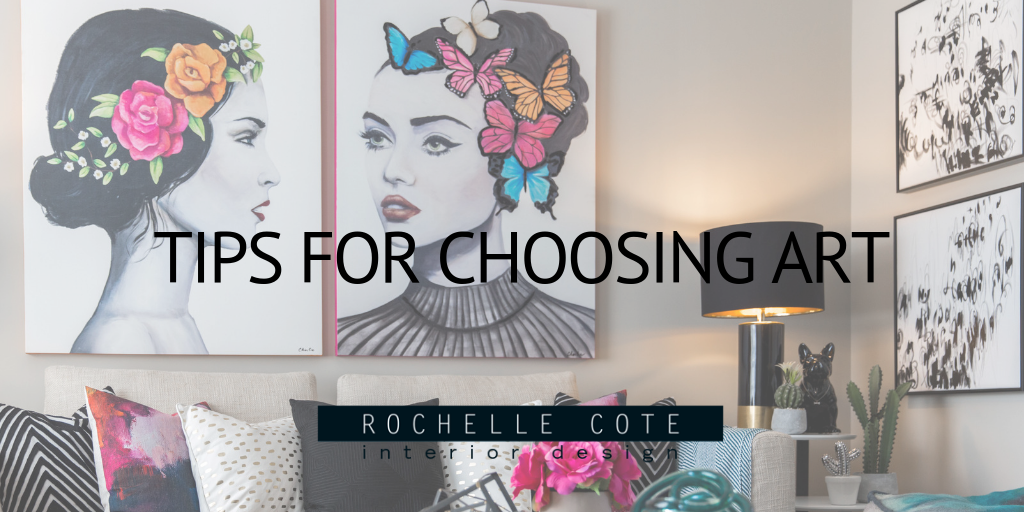 Choosing Art
There are so many options for art it is sometimes hard to narrow it down. We have put together a list of things to consider to help you when selecting art.
Adding Personality
Art is one of the easiest ways to add personality to your space. Whether it is an original art piece or a mass-produced piece, it is important to really love the piece! Artwork expresses the personality of the homeowner and their space. People often get hung up on art matching the colours in their home or matching eachother, but art is in a category of itself. While picking up some colours in your space can extenuate your colour scheme , it is not required to compliment your space. A contrast in colour or a bold black and white can be the perfect counterpart to your space.
Size and Scale
Too often people make the mistake of choosing art that is too small for their space, which makes the space feel small and bitsy. We typically select art that is roughly two thirds the width of the item the art will be by. For example, if you have an 80-inch sofa, your art piece should be about 60 inches long. If you oversize your art you will not only have less nail holes, but also pack more punch with less items giving you a more finished, sophisticated look. Have a piece that you absolutely love but is too small? Consider reframing it with a larger matte to give it a classy look, while adding more impact. Art ledges can also be a great way to collage art. It is not only easy to switch out, but it can give a layered look that we are in love with!
Location
Art doesn't have to match completely throughout your home. While you want there to be some connection, you can go bolder or more serene depending on the space it is in. Great rooms are usually a more prominent space where you want your art to pop. Your great room is usually the space you will have the most guests in, so we encourage you to spend a bit more money here and get a piece that is a feature for the room. This will make your room stand out and can even act as a conversation starter.
Bathrooms are more of a private space with not a ton of wall space. We love getting sets and either stacking them two high or coordinate them above the toilet and towel bar. One thing to be mindful of in selecting bathroom art is the medium of the art. Bathrooms hold a lot of humidity, so opt out of the expensive pieces or canvases as they might warp or get damaged.
Bedrooms are sometimes neglected for art, but they can add a lot of impact and bring your bedroom to the next level. Abstracts or soothing landscapes can be great for your bedroom, as they are more serene spaces. Whether you put the art pieces above your bed or get a large-scale piece for above your dresser, it is sure to add that extra touch.
Photo Credits:
https://www.pinterest.ca/pin/349029039852042767/
https://www.pinterest.ca/pin/348677196142671040/
https://www.pinterest.ca/pin/13440498872415246/
https://www.pinterest.ca/pin/66217057006178085/
https://www.pinterest.ca/pin/255438610099963653/
https://www.pinterest.ca/pin/336995984612435662/
https://www.pinterest.ca/pin/173247916894122954/