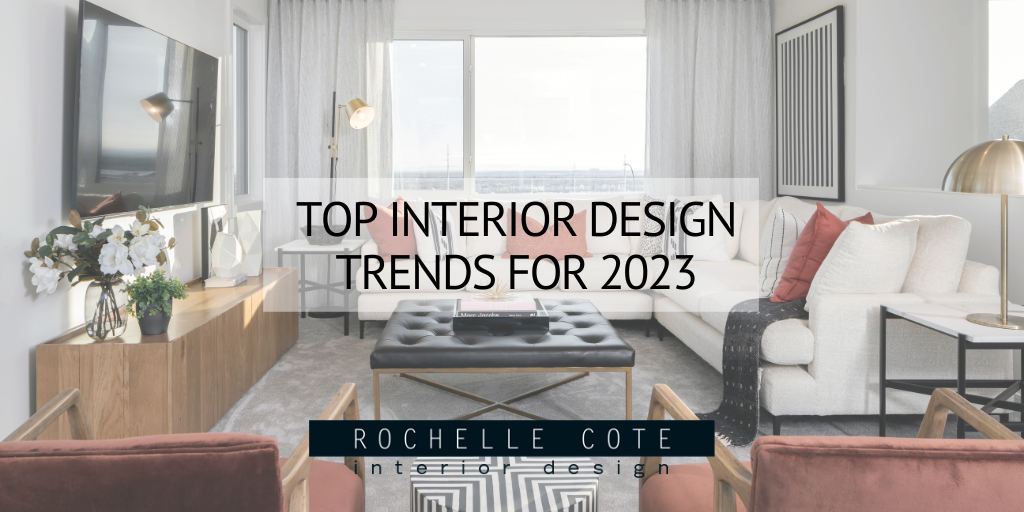 Top Interior Design Trends for 2023
We always look forward to trend reports for the upcoming year. It's a time to embrace new and upcoming materials, shapes, textures, colours and patterns. There are a number of companies that report on upcoming trends, so the key is to pick and choose which trends you like and focus on ones that apply to your design style and your home. So, that's exactly what we've done here. We've chosen to focus on trends that align with the work you've come to know and love from RCID, while injecting our upcoming designs with a fresh take for 2023. The four trends that we've outlined below will give you a great starting point if you're looking to update or renovate your home, with just one caveat - make sure to use trends sparingly. Curved furniture is beautiful, but there's no need to switch out all your furniture for curved pieces! 
Crowning Jewels 
Colourful jewel tones are going to be peppered throughout a lot of interiors in 2023. They key to using these jewel tones effectively is to keep them very dark, moody and rich so they add a luxurious touch to your design. You also want to make sure that you use them as an accent colour (we love an accent chair in a rich hue) to avoid having your room take on too much of a maximalist feel. Jewel tones are most often seen as cooler colours, but we love to inject warmer jewel tones into a room, as seen in the photo on the left. The rich amber colour of the toss cushions are complimented by the muted garnet colour of the chairs to bring fun, yet restrained pops of colour to this living room. In the photo on the right, we see beautiful cooler jewel tones of teal and emerald come together to create a refined look in this living room. One last tip - if you really want to make jewel tones come alive, choose jewel tones done in velvet fabrics. There's nothing more luxe!
Ahead of the Curve 
We've been seeing a lot more curved furniture over the last couple of years and it's here to stay! For this year, we're seeing the curved organic shapes extend beyond a curved sofa into chairs, coffee tables, benches and smaller goods. There's something very calming and serene about more curved, organic shapes and we love mixing these into a design to offset harsher, more angular lines. That's just what we've done in the photo on the right where the curved bench softens the more angular lines of the dining table and chairs. We also love this curved bench for it's terrazzo material, which gives it a vintage feel. In the photo on the left, the curved back and rounded edges of this chair give it a slightly more comfortable feel, while the cut outs add a fun and playful vibe. We even see curved, organic lines in the coffee tables that are used in this space as well.
Clusters of Coffee Tables
We love that this trend is going to be more popular for 2023 as mixing two or more coffee tables together is something we love to play with in our designs. Mixing coffee tables allows you to mix different materials together to create different textures in a room. It also means that you can move pieces of the table to serve different purposes be it a side table or a foot stool, giving you maximum functionality. The photo on the right is a great example of how you can incorporate all of these elements into your coffee table design. In the photo on the left, the two different heights of the coffee tables gives the room a layered look and the slightly different shapes add a natural, organic feel. Having coffee tables clustered together also means that you can have design objects such as books, vases or small sculptural objects displayed at all times and you won't have to move them because you still have other surface areas for resting your feet or a nice glass of wine at the end of the day.
It's Time for Tile
There are so many fantastic tile options out there, so we're thrilled that the use of tile is trending towards the more playful side. We love using tile at various points throughout the home - think entryways, kitchen and bathroom backsplashes, bathroom flooring and showers - but we wouldn't recommend that you use more playful tile in all those areas. When done right, as seen in the photo on the left, a playful kitchen backsplash done in muted tones of a trapezoid tile can have a bold, yet lasting impact. The key to this design was to use muted tones that all complemented each other and picked up on materials used around the kitchen. It was also important to lay the tiles in a pattern that looked more organic and kept it from appearing too busy or chaotic. The photo on the right also uses trapezoid shapes in a cooler palette, but the layout of these tiles gives them a patterned look that's a little more energetic, but is perfect for the smaller use as a tub surround.
Overall, we're very excited about the trends for 2023 and are looking forward to sharing our upcoming projects with you so you can see some of these trends in action!
Photo Credit: Shellard Photography