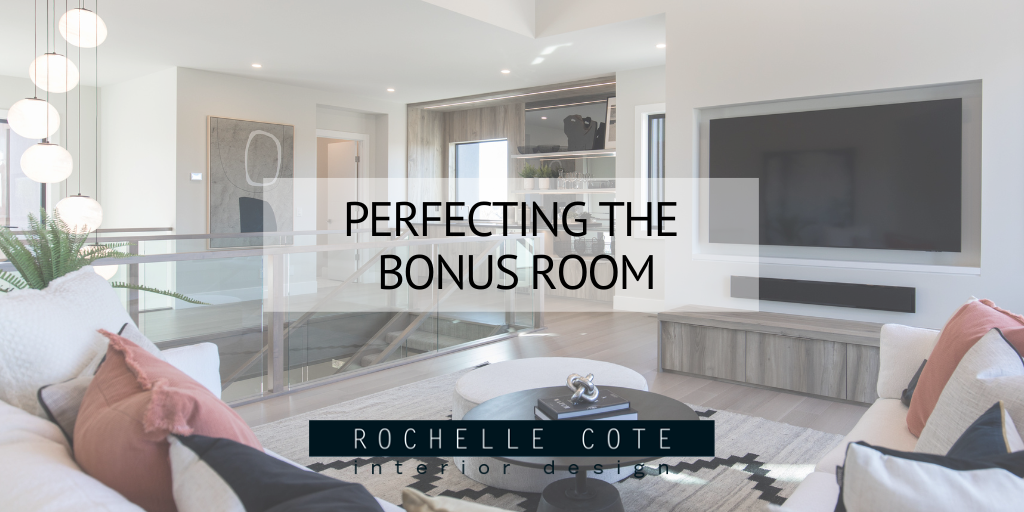 Perfecting the Bonus Room
Having a bonus room is especially helpful as we head into the colder months and start to spend more time inside. If you have a bonus room in your house, this can often be a neglected space, but it's actually one that's brimming with possibilities! There are so many options for what you can do with a bonus room ranging from a second living room to a TV room to a family game room or even an office/homework room. The options are endless, so we're here to give you a few pointers on different elements to include in your bonus room and different ways to utilize the room to make it work for your home. Feel free to mix and match ideas so that your bonus room encompasses everything you need.
Turn it Into Your TV Room
Using your bonus room as the TV room is a great option for those who want to keep the TV out of the living room. Setting up your bonus room as your TV room means that you can centre the room around the TV and decorate it with everything you need for a comfortable movie night. In this type of room, we'd recommend styling it with a plush sectional that you can just melt into. In the photo on the left, the room is decorated in lighter tones with colourful throw pillows and a patterned rug to go with the open and airy feel of the house. The photo on the right is a moodier take on the TV room with monochromatic pillows and a feature wall painted in a rich black colour to really set the mood. Top that all off with statement lighting and you have the perfect room ready for binging your favourite series.
The Second Living Room
Your bonus room can also be put to good use as a second or more formal living room. This is a great option if you want to have a space that doesn't feature a TV and is better suited to entertaining guests and enjoying one another's company. In the photo on the left, this moodier living room is styled with a plush sectional and multiple throw pillows so that guests will be comfortable sitting with a glass of wine and lingering over conversation. The large coffee table is a great option as you could use it to serve charcuterie or other appetizers. In the photo on the right, this lighter take on a bonus room features a stunning gallery wall, which makes a dramatic impact in this bright space.
It's All Fun & Games
Quite possibly one of the best uses of the bonus room is as a games room - especially if you have a family. This is the perfect place to include larger games for the kids (and adults) such as a pool or ping pong table. The photo on the left is a great example of how to have fun with your art when styling a game room - the vintage-inspired prints have a ping pong theme to work with the overall playful atmosphere of the room. In the photo on the left, the pool table is situated right next to the bar and wine rack, which make this a great space for adults. The lighting in this room is also hung low over the table to give an authentic pool hall vibe which is a lot of fun - exactly what you want in a game room!
A Couple Bonus Ideas
There are a couple additional ideas that would be great options for your bonus room. First up, using your bonus room as a home office or homework room can be especially useful if you have kids, or work from home yourself. Having a designated area to work and do homework is especially helpful for productivity and ensures that other areas of your home - like the kitchen or living room - stay tidy and free of work. This is also a great place to include multiple, or wall- to-wall bookshelves to give your office a library feel. The second option is great for those who love to entertain. Try using your bonus room as a lounge space! The photo on the right is a perfect example as the bonus room features the wine fridge and bar area complete with comfortable seating that you'll be sure to curl up in for many nights to come. This space is truly an entertainer's dream! 
Photo Credit: Shellard Photography