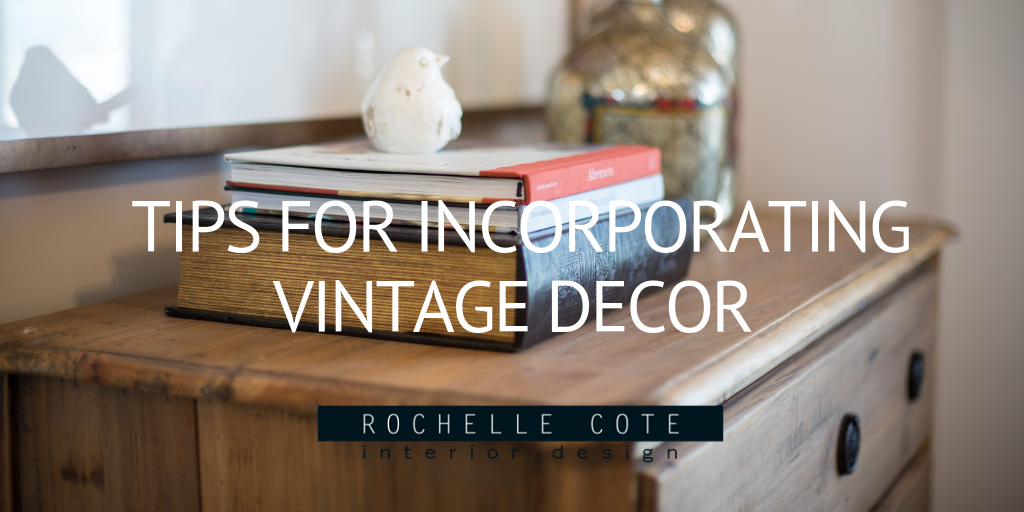 Tips for Incorporating Vintage Décor
Although we don't do a lot of vintage design, sometimes we have client that want to incorporate vintage or existing elements into their home. Here are some tips to keep those sentimental pieces:
Repaint/Refinish
The easiest way to update a vintage piece is to repaint or refinish the piece. Refinishing gives the piece new life and can give an old piece a completely different look! To give an old piece more of a contemporary look, try repainting in black or lacquered colour.
Reupholster
Similar to the above, reupholstering can give an old piece new life. Not only do things start to wear over time, but fabric styles can date themselves while the frame may still be very current. If you have an accent chair it might be fun to emphasize the uniqueness of the piece and select a colourful or bold fabric to make the chair stand out. You can also tone down the piece with a clean, contemporary fabric to turn your item into a timeless piece.
Playing With Patterns & Textures
The great thing about vintage items is they have a lot of character. People put a lot of effort and craftsmanship into these items, so it is great to showcase them and let them play off eachother to give your home that sense of character.
Pairing Old & New
The trick to incorporating vintage décor is to mix and match old piece with new pieces. Try pairing an antique console with a modern art piece above, or using a vintage art piece, with a thin black contemporary frame, or even update your main furniture pieces and keep that old rug from grandma's house that you love. Instead of having a house full of stuff, you will create intriguing elements with character and act as a conversation piece.
Don't Over-Do It
While incorporating vintage items into your home is a great way to add character and can showcase sentimental items, over-doing the vintage elements can make your home appear dated or cluttered. I try to pair down the amount of vintage items to allow the pieces to stand apart and act as a feature. For example, if you have a bookcase try adding two or three fun vintage décor items. In your entry you could use a vintage console and some vintage chairs in your living room. Don't be afraid to be playful and have fun with it.
Photo Credits:
Shellard Photography
https://www.pinterest.com/pin/55028426672018883/
https://www.pinterest.com/pin/642325965583567461/
https://www.pinterest.com/pin/372743306638467983/
https://www.pinterest.com/pin/86201780352811157/
http://betterdecoratingbible.com/wp-content/uploads/2017/09/decorating-with-vintage-furniture-mixing-and-matching-ideas.jpg
https://hips.hearstapps.com/hbz.h-cdn.co/assets/17/03/hbz-the-list-antiques-03_1.jpg?crop=1xw:0.99975xh;center,top&resize=980:*