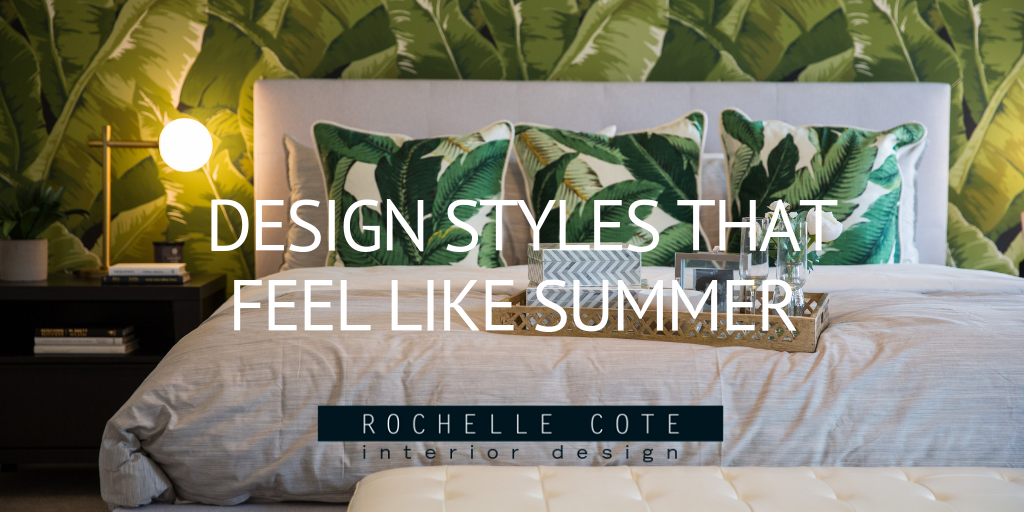 Design Styles That Feel Like Summer
No one can deny that summer is pretty awesome – warm days, cool drinks and lots of fun with friends and family in the sun! We all love summertime, so here are some ideas on how to bring those summer vibes into your home:
Fabrics
Summer is light and breezy, so it is not a big surprise that when bringing that summer feeling into your home that the fabrics be light and breezy too. Linens and soft cottons are great because they are natural fabrics that are breathable and soft, as well as let light in through drapery. These fabrics have a soft feel, and a relaxed texture that reflects that comfortable summer feel.
Plants/Greenery
Yay, summer is here and we get to see life instead of the desolate winter! Make the most out of the short summer months and bring life to your home by adding greenery or plants. A fresh bright bouquet of daisies on the island or incorporating leafy mostera plants into your great room can make all the difference and give life to your space.
Seasonal Changes
Some things are harder to change with the seasons, like your furniture and paint. But, switching out your toss or bedding for the summer can make a big difference in the look and feel of your space! Ditch the dark colours and heavy winter textures to opt for lighter and brighter tones to achieve that summer feel. Light whites and soft textures keep your space light and airy, for a clean canvas, but you can also add some fun patterns to give it that extra summer fun!
Outdoor Living
One of the most obvious differences in summer is the time spent outdoors. I mean the weather is great, so the more time soaking in the sun the better! Adding some patio furniture in your backyard makes it easy to relax with friends and family while enjoying the weather. Add some fun Edison outdoor string lights to your outdoor space to keep the party going even when the sun goes down!
Summer goes by quick, so make the most out of your summer and add these tips to keep the good times rolling!
Photo Credits:
Shellard Photography
https://www.pinterest.com/pin/462252349238554378/
https://qdesigncentre.com/shop/drapery/house-linen/
https://www.pinterest.com/pin/753297475151170049/
https://www.pinterest.com/pin/590534569864819548/
https://www.pinterest.com/pin/786933734869989961/