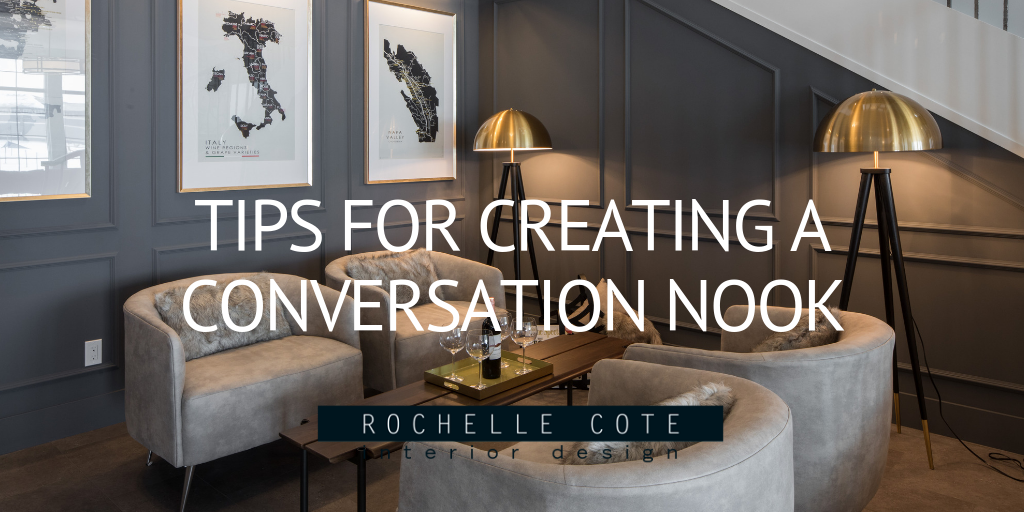 Tips for Creating a Conversation Nook
We live in a world that is getting more and more closed off. Looking to reignite your need for social interaction? Well look no further than these tips to create a conversation nook in your home:
Keep it Comfortable
One of the most obvious tips in creating a conversation area is comfortable seating. Soft seating and cozy textures will make guests feel right at home, making it easy to sit and talk for hours. Adding pillows and nearby throws can help guest feel more comfortable, as it allows them to easily adjust their level of comfort and temperature. Adding an area carpet defines the conversation area, as well as provides guests with a soft and warm underlay for their feet. Who can say no to that?
Set the Tone
Lighting is key in setting the tone of your space. If possible, your conversation area should be near a window. The natural light will immediately brighten the mood and add a sense of warmth to the space. If your access to natural light is limited, be sure to add ambient light to create a warm, inviting space. Dimmers are a also great way to adjust the feel of your space. They can either brighten the space, or decrease the light levels to create a soft, low effect as the night progresses.
Arrange the Space
The way you arrange your space can play a key role in creating a conversation area. Provide ample seating that faces each other to inspire conversation. Furniture should be no further than three feet apart from each other to allow guests to talk naturally and not feel like their have to raise their voices. Having a central coffee table allows guests to put down their drink, as well as acts as a gathering area.
Ditch the Technology
One of the biggest conversation killers is the television. A tv is great for a bonus room, but as soon as it is on in your living room it causes a distraction for guests and the conversations will stop. So ditch the tv and go for a nice art piece instead. Hey, maybe you can even get an interesting piece to spark some conversation!
Photo Credits:
https://www.pinterest.ca/pin/292171094556565386/
https://www.pinterest.ca/pin/801077852442396919/
https://www.pinterest.ca/pin/449867450269782940/
https://www.pinterest.ca/pin/276971445818492151/
https://www.pinterest.ca/pin/395331673522349792/
https://www.pinterest.ca/pin/391109548888379152/
https://www.pinterest.ca/pin/552887291724485074/
https://www.pinterest.ca/pin/697424692271230045/