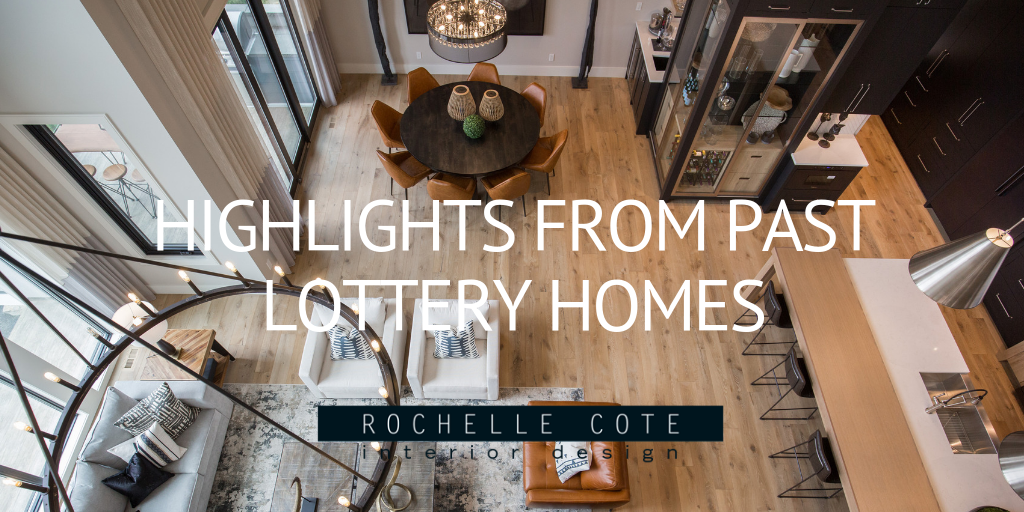 Highlights From Past Lottery Homes
We have been working with Calbridge and the Calgary Health Trust for the last five years and completed several Lottery Homes. With the January 2019 Foothills Lottery Home opening to the public on February 21, we thought we would take a look back on some of the past lottery homes and review some of our highlights.
2013
Our first lottery home ever! My favourite part of this home was the kitchen. The wood cabinets with black strapping was a unique detail, but the pop of orange completed the look! Complete with a home theatre, this house was great for family living and entertaining.
2014 August
One of my all-time personal favourites! This cottage style home backed onto the Mahogany Lake and effortlessly pulled off that nautical look with rustic woods, soft whites and navy stripes. And how fun was the kids play area?
2016 February
This contemporary home featured beautiful warm hardwood floors and a truly light aesthetic with a flat panel white kitchen and soft furnishings. This home was incredibly beautiful and had all the space you would need. I especially loved the artist loft.
2016 August
This lottery home was quite the stunner! With a full bar and pool table in the basement, this lower level made an impression and I'm sure made the winner a popular person on the block. Ideal for entertaining the main floor was open and airy and the screened decks made it easy to enjoy time with friends inside and out.
2017 January
I loved how this lottery home turned out! The massive black windows and oversized living room, complete with a west coast contemporary style décor made this home a showstopper. The living room art is eye-catching and the pops of blue throughout the home are the perfect blend of comfortable and contemporary.
2017 August
A neutral palette with pops of colour and an icecream bar in the basement - this home was fun and fresh. My favourite part of this home was the massive screened porch that had stunning views of the Mahogany Lake. Hot tub, eating area, fireplace, it had it all!
2018 January
I loved how this home combined moody greens with refined white brick. The black and gold industrial elements made a statement, while the warm tones gave it a down-to-earth feel. Contemporary furniture and a storey-wine rack made this home a feature. The impressive basement lake room and billiards room made it ever easier to love!
2018 August
This striking Modern Farmhouse interior was the perfect mix of contemporary and rustic, making it stylish yet comfortable. I love how on-trend this house was and how it appealed to the masses. The two storey view and upper catwalk monopolized the killer views of Mahogany Lake and the finishes throughout the home flowed effortlessly. Definitely a top pick for RCID!
It is fun to look back on past projects and see how far we have come. I can't wait for you to see our next Hospital Home Lottery! Stop by February 21 and get your tickets!
Photo Credits:
Shellard Photography