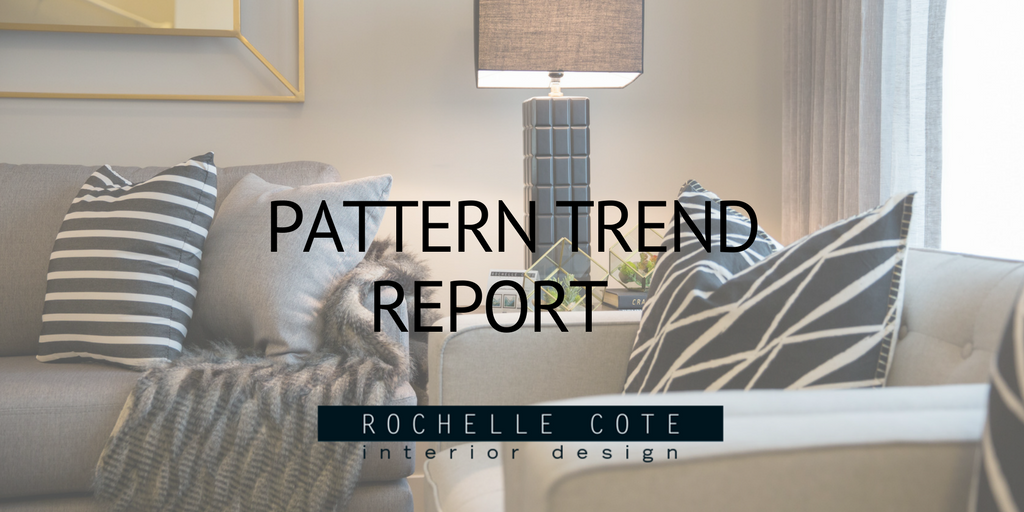 PATTERN TREND REPORT
Well the votes are in and we are definitely seeing a pattern… Take a look at some of the common pattern trends in wallpaper, fabrics and tiles that you will be seeing throughout 2018!
Wallpaper & Fabric Patterns:
In 2017 we saw a ton of oversized florals in wallpapers and fabrics and we are continuing to see this trend through 2018. Taking it a step further, but following the same lines is the movement towards large tropical patterns. These tropical patterns bring a playfulness to our spaces. Flamingos, abstract leaves and colourful junglescapes are making their mark in both wallpaper and fabric patterns this year.
Another trend we are noticing in textiles is geometric patterns. But instead of small-scale geometrics we are seeing larger, more abstract versions of the typical shapes. Personally, we are loving all the geometrics! They are current yet classic, playful yet structured. You can do so much with these shapes and really make them your own!
Tile Patterns:
Much like the patterns we are seeing in wallpapers and fabrics, we are seeing this trend transfer over into tiles as well. The geometric tile trend is in full swing! Whether it is a tile with a geometric pattern printed on the surface or how the tile is installed, we are definitely seeing lots of geometrics this year!
Something I am really excited about this year, is the fun textures in tile! 2018 has brought a lot of fun and interesting textures to the table. Suppliers are mimicking all sorts of textures - concrete, linen, wood, marble and many more. And we are loving the results!
Similar to the geometric tiles, we are seeing bold motif tiles as accents in powder rooms and other spaces. These tiles come pre-patterned and are easy to install. The motifs usually tend to be in black in white or grey-scale, but add that perfect splash of elegance.
Keep posted to see how RCID uses these pattern trends in our project to come!
Photo Credits:
https://www.pinterest.ca/pin/394839092325468793/
https://www.pinterest.ca/pin/394839092325476074/
https://www.pinterest.ca/pin/394839092325475814/
https://www.pinterest.ca/pin/394839092325468852/
https://www.pinterest.ca/pin/394839092325468841/
https://www.pinterest.ca/pin/394839092325468827/
https://www.pinterest.ca/pin/394839092325468801/
https://www.pinterest.ca/pin/394839092325468774/
https://www.pinterest.ca/pin/394839092325468783/
https://www.pinterest.ca/pin/394839092325468766/
https://www.pinterest.ca/pin/394839092325468772/