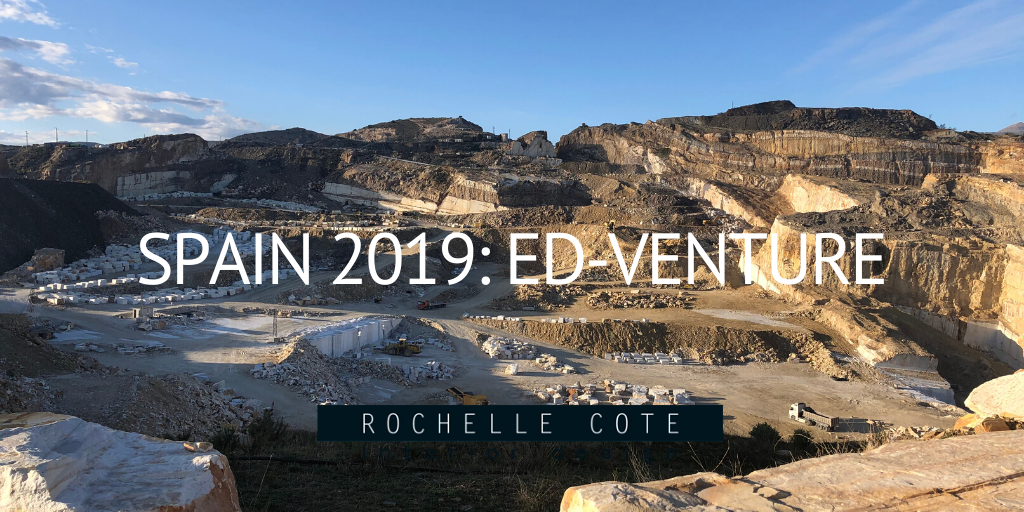 Spain 2019: Ed-venture
I was lucky enough to the get the chance to take a trip with 18 designers and trades people to tour the Cosentino factory in Spain.
After a long flight and several transfers, we finally started the trip in small, but beautiful Almeria. With just a short drive we were at the Cosentino headquarters. The area was expansive to say least. The Cosentino Headquarters itself was impressive, not to mention their 350, 000 slabs onsite. Cosentino employs over 3000 people in the area – in their facilities they have an onsite doctor, school and overall forward-thinking atmosphere. It almost reminded me of Google! Not to mention Dekton was everywhere! Exteriors of buildings, flooring, and even the sidewalks throughout the Cosentino grounds.
We started our day with a tour around the grounds of Cosentino and a trip out to their marble quarry where we saw the raw material in its natural habit. We were educated on the process of how they mine the marble and got see first-hand people at work.
Back at the Cosentino showroom, beautiful large slabs of natural marble, fabricated Dekton and of course, Silestone quartz were on display in large format. I loved seeing the large slabs - it always makes a big difference in getting the overall feel of the stone, especially for those slabs with large veining. The showroom also had great displays that showcased their material and provided inspiration for new ways to incorporate the different materials into projects.
After a delightful lunch, we toured through three manufacturing plants that walked us through the process of making Dekton and Silestone slabs. The process was rather eye-opening! To see the care Cosentino takes when selecting the materials that goes into the quartz and Dekton, as well as the strenuous quality checks throughout the process – it gave me faith in the quality of the product.
I learned a lot over the short amount of time at the Cosentino Headquarters. Cosentino treated us like royalty and took us to some great restaurants and hotels. We went to Granada where we spent a day roaming through the old streets and history-infused markets. I love travelling and being inspired by different cultures, good food and observing the world around me. Thank you Cosentino for the trip of a lifetime!