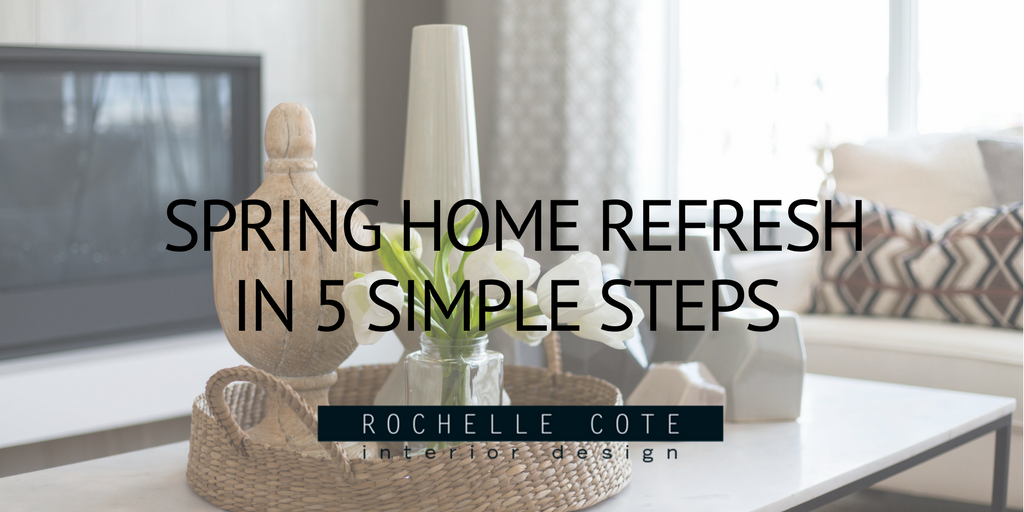 SPRING HOME REFRESH IN 5 SIMPLE STEPS
Spring is just around the corner and we can't wait! Spring means no more scraping snow off our windshields and no more freezing weather. Spring means summer is coming soon, but before we can get there, let's take a look through some tips on refreshing your home for spring.
Give it a Clean
Everyone has heard of spring cleaning, and that's because it is so great to purge after the long winter months. Go through your closet, your house and declutter things you don't need or use. Touching up the paint on your walls and trims can also freshen up your space and give it a clean, new feeling.
Refresh Your Linens
Refresh your bed linens. Get rid of all those large, heavy blankets and lighten up your bedroom. Swap out the heavy duvet cover for a lightweight one or substitute your comforter for a coverlet. Getting rid of that extra winter weight will make you feel light and ready to take on the world. Choosing a lighter colour scheme for your bedding will make all the difference, giving that fresh spring-look leaving you ready to take on the day!
Bring the Outdoors In
Aww spring – the flowers are budding and the animals are coming out of hibernation. It's all so fresh and beautiful. Adding some plants or flowers to your home is one of the easiest ways to brighten up your home and get that spring feeling into the air. Adding some botanicals instantly freshens up your space and brightens your mood. Don't worry, if you don't have a green thumb - succulents, cactus or snakeplants are great options to still get that color and life into your home without the constant maintenance. 
Bring In A Scent
Personally, I think springtime has some of the best scents. The fresh flowers, the bright crisp air. Bring that freshness to your home and choose an uplifting scent to keep you in the spring spirit!
Swap Out Your Pillows
Winter is dark and cold so you usually want some dark moody colours to make you feel warm and cozy. Spring is entirely a different story! So swap out those dark toss and throws for some fun colours to brighten up your space and give it a whole new look. It's amazing how much difference just swapping out a couple toss pillow can do! 
What are you waiting for? Spring is just around the corner! So say goodbye winter, and say hello to wonderful, wonderful spring!
Photo Credits:
https://www.pinterest.com/pin/AfGIQfqxaqnYyZEnW04i8tB9ICTmaLfDjKiqywi3j2Of0rGnYcS5FS8/
https://www.pinterest.com/pin/228839224799822227/
https://www.pinterest.com/pin/13370130121029790/
https://www.pinterest.com/pin/AVRf3z83gKweX372dzLhrN8VBUaL0117HkCiobCIH5UHvHdWzZIQ22w/
https://www.pinterest.com/pin/294422894362166010/
https://www.pinterest.com/pin/395050198561926645/
https://www.pinterest.com/pin/54887689191527104/
https://www.pinterest.com/pin/56787645288047332/
https://www.pinterest.com/pin/328622104048362370/
https://www.pinterest.com/pin/38913984265234612/