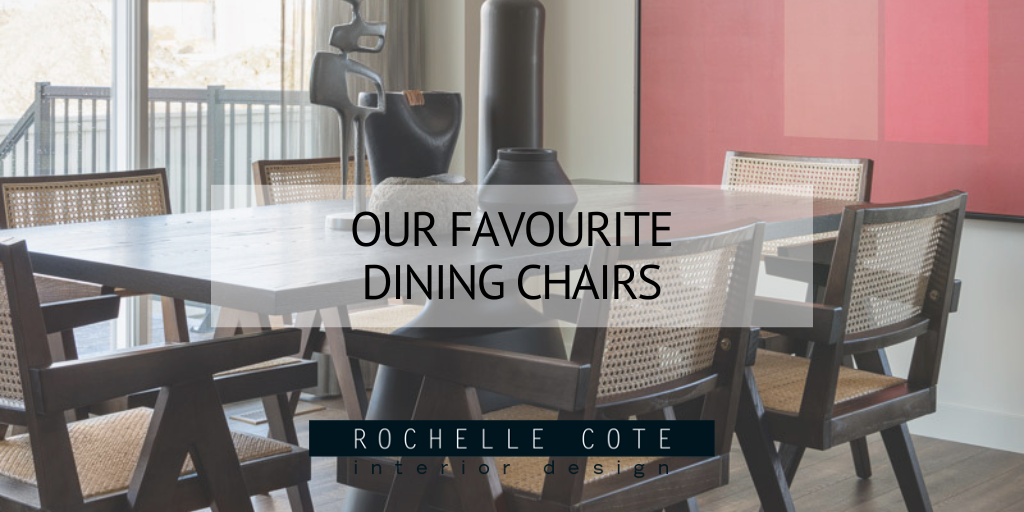 Our Favourite Dining Chairs
Picking chairs for your dining room can often be a battle of form versus function. A lot of chairs are beautiful, but lack the comfort of being able to sit in them for hours on end when hosting friends for a dinner party. By contrast, a lot of comfortable chairs lack the refined style you'd like in a dining room. Luckily for you, we've rounded up some of our favourite dining chairs that are both beautiful and functional. Our favourite chairs encompass a variety of shapes and styles that can work across multiple home designs. 
The Look of Leather
Leather dining chairs are a classic for a reason - they'll always be in style. An upholstered style in leather is going to give you a chair that's comfortable, as well as durable. The leather will wear beautifully over time and will be more resistant to stains as it can easily be wiped clean. Leather gives dining chairs a sleek and refined look with a bit of an edge. In the photo on the left, the leather gives these mid-century inspired chairs a streamlined look. The long angled legs and space between the seat and the back of the chair also give them a light and airy feel and keep them from looking bulky. In the photo on the right, the warm grey leather gives these chairs a softer, more elegant look without seeming heavy. Plus, the curved, cozy shape is very inviting for guests - perfect for enjoying a long meal among friends and family.
Velvet Luxury 
Another type of upholstered chair that we love is one done in velvet. A chair upholstered in velvet adds a touch of luxury to a room, especially when done in a deep saturated colour to add extra richness. As an added bonus, it's also very soft to sit on! The photo on the left is the epitome of how sophisticated velvet can look. When done in a deep teal blue with brass accents, it can add a huge hit of sophistication to your dining room. The shape of these chairs is also very sleek and minimal with clean lines and a slim profile. In the photo on the right, the deep charcoal grey velvet with slim black legs gives these dining chairs a sleek monochromatic look that complements the other black accents in the dining room. The curved shape of the seat and back of these chairs is a classic look that will never go out of style. 
Would You Choose Wood? 
A wooden dining chair is a classic choice that fits a variety of design styles. When choosing a chair made entirely from wood, look for small ergonomic details such as curved seats and back rests to give extra comfort. In the photo on the right, we see just that with the curved details of the wooden frame. This chair is done in a classic style, with curved lines and a matte black finish for an updated take. In the photo on the left, the chairs are also done in a black finish, but this chair features sharp angles to give it a very modern appearance. The caning in the back of the chair along with an upholstered seat helps to soften the look and add a touch of warmth. 
Fabric is a Classic
We love the look and comfort of an upholstered dining chair, but focus on using more contemporary styles of chairs to keep a dining room from looking dated. Fabric upholstery is a great option as it comes in a range of colours and textures so you can find chairs that work perfectly with the style of your home. In the photo on the left, the dining chairs are the perfect complement to the cool tones of the home as well as the black accents seen throughout. The colour of the upholstery is a calming, neutral gray that's understated, but still elegant. In the photo on the right, we love the more boxy look of these chairs with their slightly curved rectangular shape. While still upholstered, they have a cool modern look thanks to their slim profile and super fine black legs. They're the epitome of comfort and style all in one stunning chair!  
Photo Credit: Shellard Photography