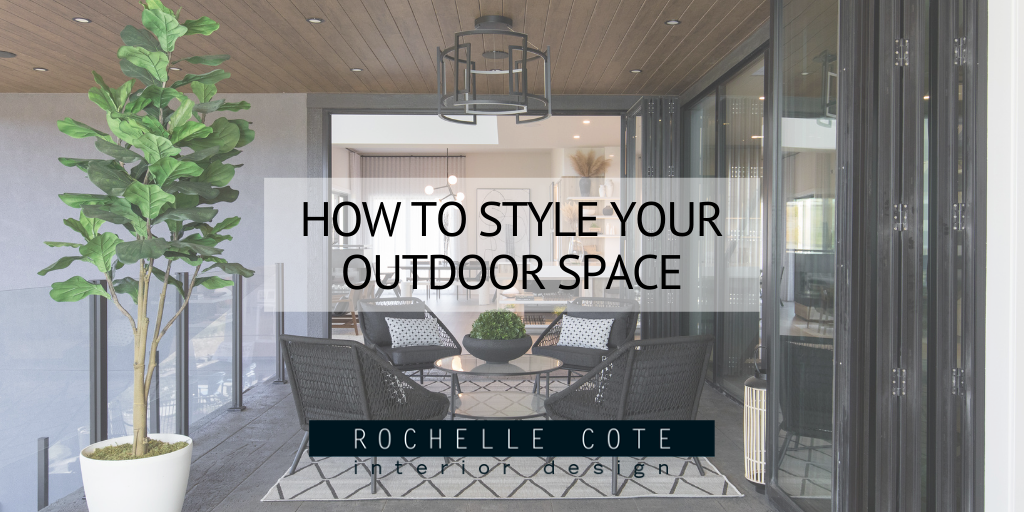 How to Style Your Outdoor Space
No matter what size outdoor space you have, as soon as the weather starts to stay around 20 degrees, we want to be outside! Whether you have a small patio, a spacious deck or an outdoor dining area, setting up and styling your space at the start of spring or summer is always exciting! Patio furniture has also come a long way from the basic table and chairs of your parents. There are a number of modern items to choose from and you're able to mix and match different elements without committing to an entire set. Plus, the colours and fabrics come in a wide range of options that are designed to stand up to the elements. So, continue scrolling for some fresh ideas on how to set up your outdoor space this year. 
The Cozy Front Porch (Or Balcony!)
If you only have a small front porch or balcony as your outdoor space, don't let the smaller footprint dismay you. The key here is using furniture that is the right scale for the space, as well as not overcrowding the space by trying to fit in too much furniture. For a cozy feel, try buying a two seater chair with a woven rattan canopy to bring a laid back, boho vibe to your outdoor space. Styled with a side table and a large palm tree for greenery, this small spot becomes the perfect outdoor oasis. If you'd rather go with chairs for your porch space, try two streamlined chairs on either side of a small table to keep conversation flowing. Place the chairs on a rug to add a cozy feeling (and keep your feet warm on summer nights) along with some textured lumbar pillows and bright greenery.
The Couch & Chairs Combo
If you find yourself with a larger outdoor space such as a deck or even a backyard, you can try creating a seating area around a central coffee table using individual chairs. Placing four chairs evenly around the table helps conversation flow and the angled back encourages lounging on long summer nights. Finish styling the space with a large, plush area rug, wooden lanterns and ample greenery! Alternately, play with a more asymmetrical vibe and place two chairs across from a couch. These chairs are roomy enough to encourage lingering conversation over long summer nights. Try rounding out your set up with a large rug to compliment the throw pillows, a sleek side table and a solid coffee table for snacks and more importantly, drinks!
Lounge on Your Sectional 
A sectional is a great choice if you have ample space to set up your outdoor area. We love the look of this modern set up on the left featuring a light grey sectional, two sleek, square black coffee tables and some fun patterned throw cushions to really brighten the space. Similarly, the photo on the right features a cool tone on tone look with accessories in various shades of grey. As a bonus, this set up has a fire table, which is a great option for prolonging your time outside. Plus, a covered deck means that you never have to worry about rushing outside to bring your furniture in when it rains.
Al Fresco Dining 
For a lot of us, the ultimate outdoor set up involves being able to eat outside with food cooked on the barbecue. We love setting up an outdoor cooking area that incorporates the barbecue with stone counters to prepare food. Using the space as an outdoor eating area is also an ideal option, especially when it overlooks a beautiful pond! The organic, warm wood of the bar table and chairs lends itself to the more casual set up of this outdoor eating area. For a less casual option, keep the barbecue and counter area, but try a sleek glass-top dining table with lattice chairs to encourage family and guests alike to spend time comfortably chatting together. To finish off the look, we added greenery to mimic the trees along the river.
Photo Credits: Shellard Photography