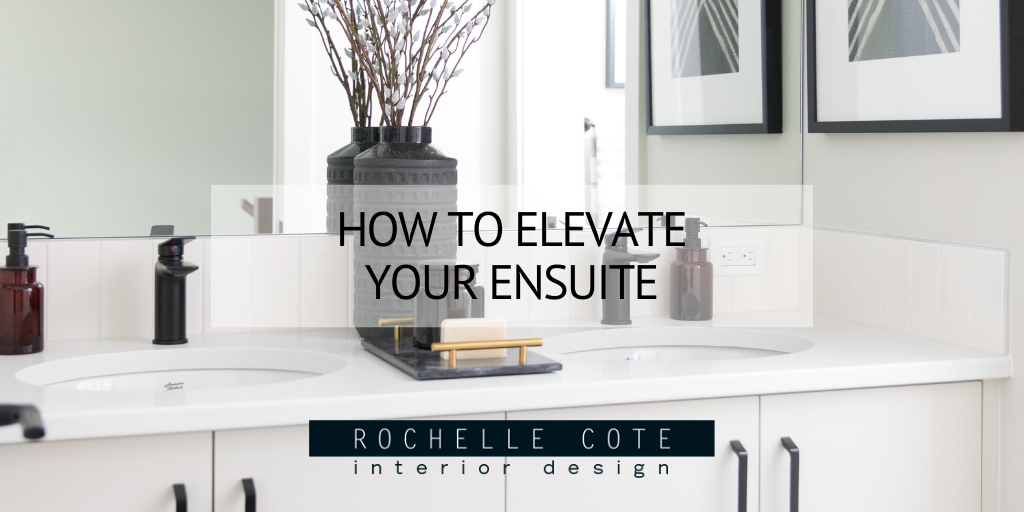 How to Elevate Your Ensuite
When it's the middle of winter, there's no where we'd rather be than taking a nice long soak in a beautifully designed ensuite. Using any of these ideas to elevate your ensuite will make it feel like a truly luxurious place for you to get ready for your day in the morning and come home and relax in at night. Most of these ideas like the double vanities, bold tile and a separate tub and shower are great to consider if you're planning a new build or a renovation. However, if you're looking to refresh your current ensuite, updating it to include a bold wallpaper or new more modern mirrors are a great choice. 
Seeing Double 
One of our favourite ways to make an ensuite feel elevated is to include double vanities in the design. This ensures that there is no crowding and gives each person using the ensuite their own space - which is a luxury itself! Having two vanities also makes the space more functional because it can be used by two people at once. In the photo on the left, we chose to use black accents throughout the space as seen in the lighting, mirrors, faucets and hardware. We love the look of black accents and the modern feel that they give a bathroom. In this space, we chose to use two vanity mirrors as we loved the curved frame of the mirrors. In the photo on the right, this is a lighter, more airy take on an ensuite that's slightly smaller in size. It showcases similar black accents and countertops, but because it's slightly smaller, we used one large, unframed mirror to make the space seem bigger.
Play with Pattern 
Your ensuite is a great place to use a patterned or more bold tile and can add a lot of visual interest to an often overlooked space - the floor. When choosing a patterned tile, we tend to choose more graphic styles in black, white or grey tones to ensure that they'll stand the test of time and that you'll enjoy them for years to come. In the photo on the left, we chose an outlined hexagon tile that's the perfect complement to this graphic black and white ensuite. In the photo on the right, we chose a tile with grey and white tones for a slightly more muted look that complements the warm tones of the oak vanity. When deciding on flooring for your ensuite, it's also important to consider if you'd like your floors to be heated. Stepping onto warm tile when you get up first thing in the morning is a true luxury, indeed. 
Stand Alone Showers 
Similar to a double vanity, separate tub and shower enclosures are just as functional as they are beautiful. By separating the tub and the shower, you can do some truly beautiful things with the design of your bathroom. Separating the two allows you to make your statement tub or beautifully glass-enclosed shower the focal point of your bathroom. In the photo on the left, the eye is immediately drawn to the sleek, modern tub and its daring tiled backsplash. Continuing this tile into the shower keeps the look cohesive, while the black channelled enclosure gives the shower a modern and sophisticated look. In the photo on the right, the shower and tub are both encased behind class doors with dark tile, to give this space a moody, secluded feel. The beautifully curved white tub and oversized piece of art add some lightness.
Wow-worthy Wallpaper
Wallpaper is a great way to bring in personality and energy to elevate your ensuite. When choosing a wallpaper, we like to go with a bold, larger scale pattern that adds a fun element to the space. In the photo on the left, the black accents of this ensuite are complemented by the black background of this botanical wallpaper and draw the eye to the standalone tub that's perfectly framed by the large window. The photo on the right uses wallpaper in a similar way, but with an even bolder pattern. If you look closely you can see that the pattern is made up of leaves and cheetahs which give this ensuite a vibe that's both fun and unexpected. In both ensuites below, wallpaper is only used on one wall to keep from being too overwhelming.
Photo Credit: Shellard Photography