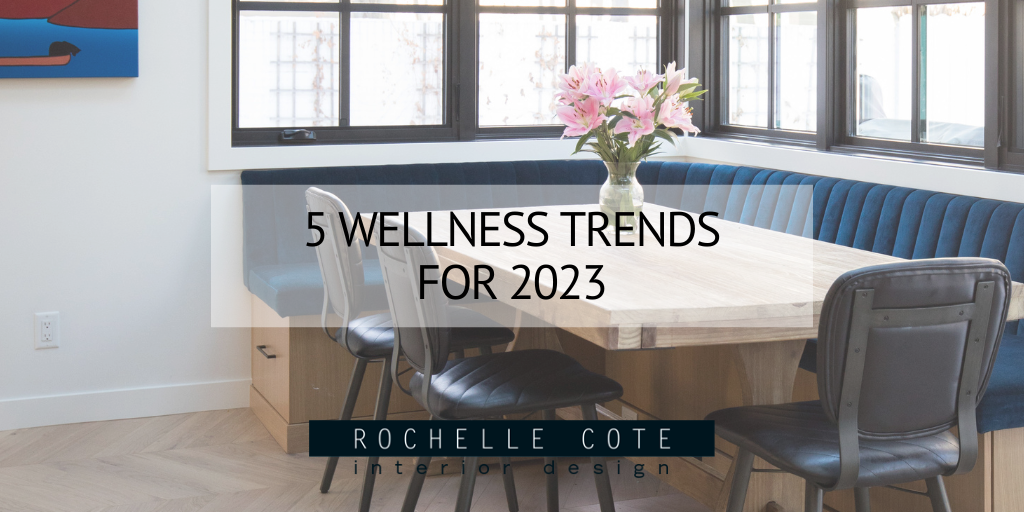 5 Wellness Trends for 2023
Around this time of year when the clocks have gone back and there's a hint of warmth on the breeze, we start to feel the need to refresh our homes. Over the last few years, there's been a refocus on spending time at home and creating a space that exudes comfort and wellness. We want our homes to be our sanctuaries. With just a few adjustments, and the help of some upcoming trends, you can turn your home into just that! A couple of these items have been trending for a few years, but they're our favourites for a reason. Keep reading to see how you can incorporate some of these wellness trends into your home. 
Green Reins Supreme
Plants are still playing a major role in turning our spaces into a calm and welcoming sanctuary. Adding them to a space can help to breathe life into a room and different colours, styles or shapes of plants can help enhance a chosen design style. Plus, certain types of plants can help to filter the air and add a pop of colour. We're near the tail end of the winter season, but if you're still feeling a bit of SAD (Seasonal Affective Disorder), try adding a couple plants to a room to help diminish your stress levels and create a calming atmosphere. In the photo on the left we've added a large vase of olive branches to add a pop of green to this sideboard. As a bonus, the art is even botanical themed to reinforce the nature inspired motif. In the photo on the right, this large birds of paradise plant, coupled with the stripes and wooden bedside table, creates a fun beach vibe. It gives this kids bedroom a great feeling of positive energy!
Create Peace of Mind 
One of the best ways that you can create a calm, soothing space is by using colours and textures in nature-inspired hues. Think calming pale blues and greens coupled with textured, beach-inspired furniture. Using materials such as wicker or rattan can give your home more of a laid back feel, which will instantly illicit a sense of calm. As a bonus, they'll add a welcome dose of texture. The natural materials also add a beautiful organic quality to a room. In the photo on the left, pale blues are mixed with some pale woods to yield a tranquil living space perfect for relaxing. The photo on the right is a slightly more dramatic look, but the jute stools and rattan light fixture help to balance and soften this living space. The blue-grey tone of the accent chairs also evoke a calming presence in the room with their cool tone. 
Have a Sense of Happiness 
This next trend is all about using scents in your home to create a calming space. Our senses have a huge impact on how we feel, and the way your home, or a room smells, can be hugely beneficial in helping you feel at peace. Adding items such as candles, diffusers or pillow sprays to your room (especially in the bedroom) can be a fantastic way to promote calm. In both of the photos below, a candle is featured prominently on the bedside table. Lighting it about an hour before bed can infuse the room with scents such as lavender that can help you relax and unwind. Using a similar scent as a pillow or room spray is another great way to infuse your home with a calming aroma. If using a pillow spray, you'll have the added benefit of being able to continuously smell the scent during the night, promoting a deeper sense of wellness and calm.
Get Outside! 
If you have any kind of outdoor space as part of your home, now is the time to use it. Getting outside (to garden if you can) and immersing yourself in nature is key to helping with mindfulness. Breathing in fresh air and connecting with nature are great ways to calm your nervous system. Even if you're pressed for time, it's hugely beneficial to try to enjoy your dinner outside as the days start to warm up. The photo on the right features a beautiful outdoor kitchen where you can do just that, all while feeling a calming breeze. In the photo on the left, this covered deck is a great place to relax and unwind after a long day, thanks to the cozy outdoor carpet, overhead pendant and spacious seating area.
Slow Down During the Day 
In Sweden, people enjoy Fika, which is a meditative morning ritual that involves slowly drinking coffee and tucking into baked goods as a workplace tradition. This tradition encourages you to take 15-20 minutes out of your day to have a blissful moment over a warm drink and pastry. Taking this small amount of time for yourself is truly beneficial to helping boost your mood. If you'd like to enjoy Fika at home, try taking a note from the photo on the left and creating a coffee station on your counter so that everything you need is beautifully displayed and ready when you need it. Or, if you're looking for a cozier option, carve out space in your day to sit down in your breakfast nook where the sun is streaming in and you have a colourful vase of flowers to appreciate. 
Photo Credit: Shellard Photography