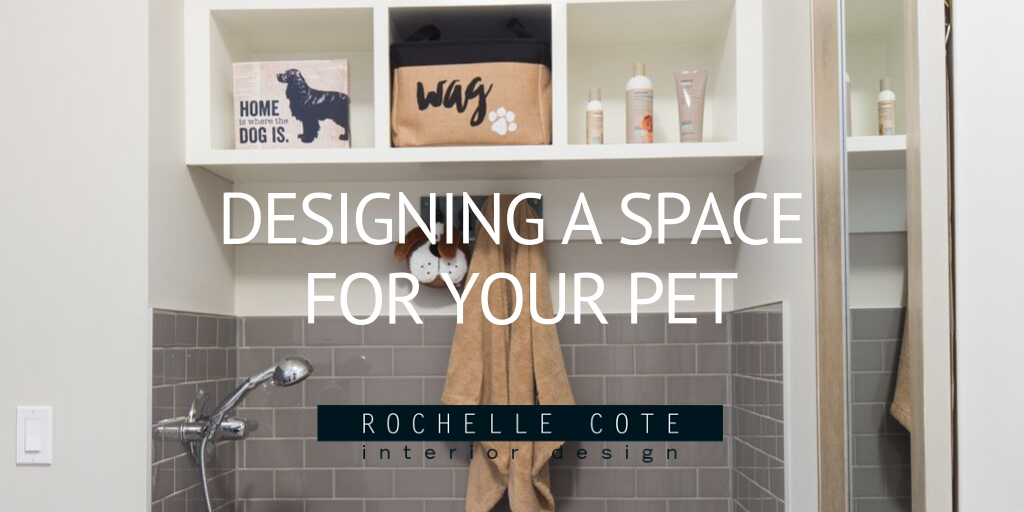 How to Design a Space for your Pet
We all love our furry creatures, I mean how could you not? But sometimes our furry little friends can cause a kink in the aesthetic of our life. It is important to be honest with your designer so they can incorporate your pet into the design. You don't have to sacrifice the design to have a space fit for your pet!
Dog Wash
In the last couple years, we have seen a trend towards incorporating a separate dog wash for your pet. These specialized baths are typically in mudrooms allowing homeowners to keep the mess contained and provide a quick clean when their furry friends come in a wet mess.
Materials That Are Forgiving
When I know a client has pets, I take it into consideration during the selection process. Choosing materials that are forgiving are important in the maintenance and allows you to keep your house looking the way you intended. Many clients don't want to sacrifice their hardwood floors. If this is the case, I typically suggest a lighter colour that hides hair and other imperfections more easily. Vinyl floors are also a great option for pet owners because they are virtually indestructible. Vinyl flooring has come a long way in its look. Vinyl floors are durable and will resist to scratching. They are also easy to clean with their smooth finish and their non-porous material, allowing spills to sit on top instead of sinking in.
Cleanability
We love our pets, but even the best of pets can sometimes make a mess. If you are wanting to incorporate carpet into your home, it is important to stay away from wools and natural fibers but rather opt for a nylon or polyester content that is easy to clean. When choosing fabrics for your furniture, we stick to cleanable polyesters or stain-guard materials that will last you through the years and the accidental messes. The stain-guard fabrics might be a bit more cost upfront, but they will save you in the end!
Creating a Designated Area
All things are good, but in moderation and the same thing goes for your pets. With your pet accessories and toys it can easily get out of hand. We suggest creating a designated area for you pet that keeps things contained instead of getting spewed throughout your entire home. Organizing toys, leashes, treats and other pet accessories into baskets and canisters helps to contain the mess, while still being easily accessible. Having a space designated for your pet also allows them to have a space that they know is theirs.
Photo Credits:
All Photos by Shellard Photography