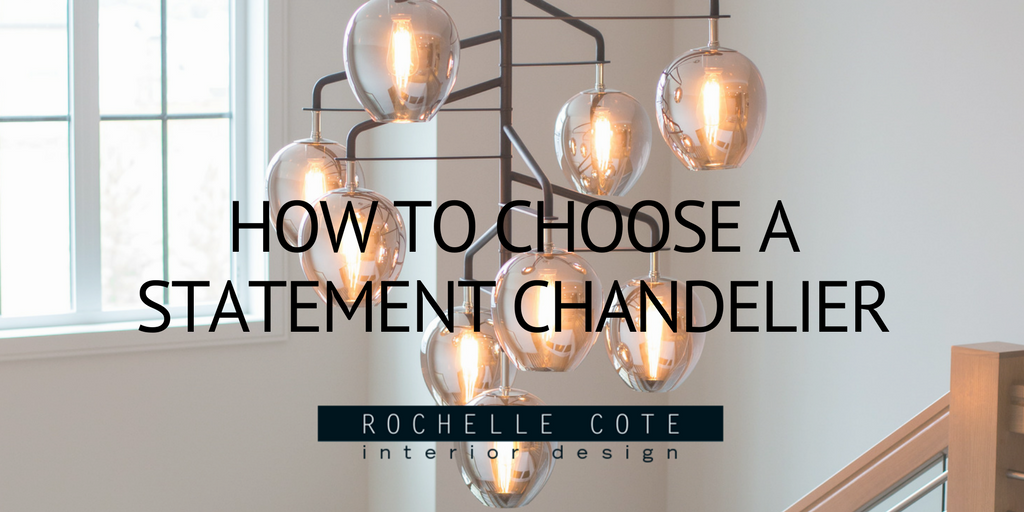 HOW TO CHOOSE A STATEMENT CHANDELIER
A chandelier can be the perfect addition to a room. It sets the tone for the space and the mood of how people feel in your space. That being said, there are so many chandeliers out there, so choosing the perfect chandelier can be a bit tricky. To help you, we have put a couple of things to consider when choosing the chandelier that is perfect for you.
Size Matters
The first thing to consider when choosing a chandelier is size and proportion. Foyers, dining rooms, living rooms and stairwells are the most common areas to have a chandelier. These spaces are easily seen and so they make great areas to make a statement. When choosing a chandelier, you want to make sure the chandelier fits your space in length and width - filling your space and allowing the fixture truly make a statement. If your chandelier is too small for your space it will get lost or look dwarfed and not have enough impact. If your chandelier is too large it can look overcrowded.
Finding the Style For You
Chandeliers come in all types of shapes and sizes; the trick is finding the right fit for you and your space. Don't be afraid to go outside your box and choose different finishes such as black, gold or glass. It is a statement piece after all, so make it stand out. Try to look at your interior finishes and your furniture style to pick something that will compliment your space, while still standing on its own as a feature. 
Consider the Use
Most chandeliers are chosen for mood, atmospheric or aesthetic reasons. If you are using your chandelier as the main source of light, make sure you consult a lighting specialist to ensure there is enough light for the activities needed. Factors such as the bulb, diffuser and wattage can drastically affect the quality of light, so make sure you are considering and choosing the right option for you. 
Go Big or Go Home
Don't be afraid to make a statement! Lighting is something that can easily be changed, but has a major impact on how your space looks and feels. So have fun with lighting! I always say that lighting is like the jewelry to the outfit. The perfect light fixture makes a room seem exciting and complete. So go out there and find your perfect statement!