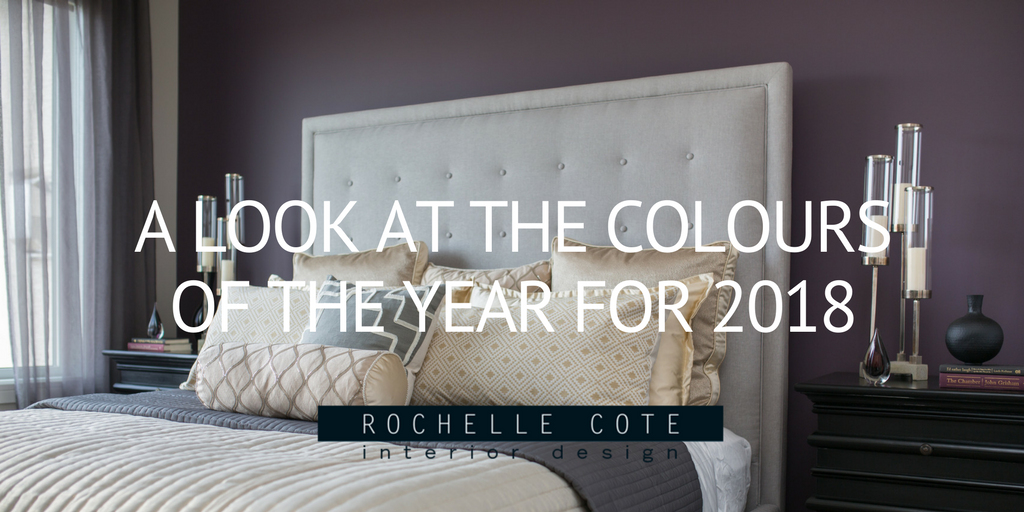 A LOOK AT THE COLOURS OF THE YEAR FOR 2018
The month is almost over and we are getting into the full swing of 2018. Let's take a look at the colours of the year!
Ultra Violet
Pantone colour of the year is Ultra Violet 18-3838. This pretty purple is not everybody's first thought, but this unexpected colour definitely stands out. This colour is unique and thoughtful, symbolizing empowerment and royalty. Whether it is used for a girls room or a dramatic backdrop in your living room, this daring colour is ready to make a statement! 
Caliente Red
Benjamin Moore had a different take on the 2018 colour of the year. Caliente (AF-290) is bold, bright and fun. Red has always been a colour that makes a statement and we are seeing it pop this year. Pairing it with neutral furniture or letting it stand out on its own, Caliente adds the perfect punch! 
Oceanside Blue
Sherwin-William's take on this year's colour is Oceanside SW6496. This calming colour is full of depth and vibrancy and adds a feeling of serenity to any room. Being a bit more muted, this colour of the year is a bit easier to use, but still carries its own. Whether in toss pillows, accent furniture or walls, this colour will make your home a place to relax in. 
Caliente, Ultra violet, Oceanside, the possibilities are endless! Spice up your home this year and add one of these 2018 colours to your life!
Photo Credits:
https://www.pinterest.com/pin/68820700540428583/
https://www.pinterest.com/pin/503769908312346365/
https://www.theguardian.com/artanddesign/2017/dec/27/ultra-violet-pantones-2018-colour-of-the-year
https://www.pinterest.com/pin/423690277427102359/
https://www.pinterest.com/pin/159244536808276607/
https://www.benjaminmoore.com/en-ca/colour-overview/colour-collections/colour-trends-2018
https://www.pinterest.com/pin/249035054378710009/
https://www.pinterest.com/pin/208221182756168718/
https://www.pinterest.com/pin/543106036307135944/