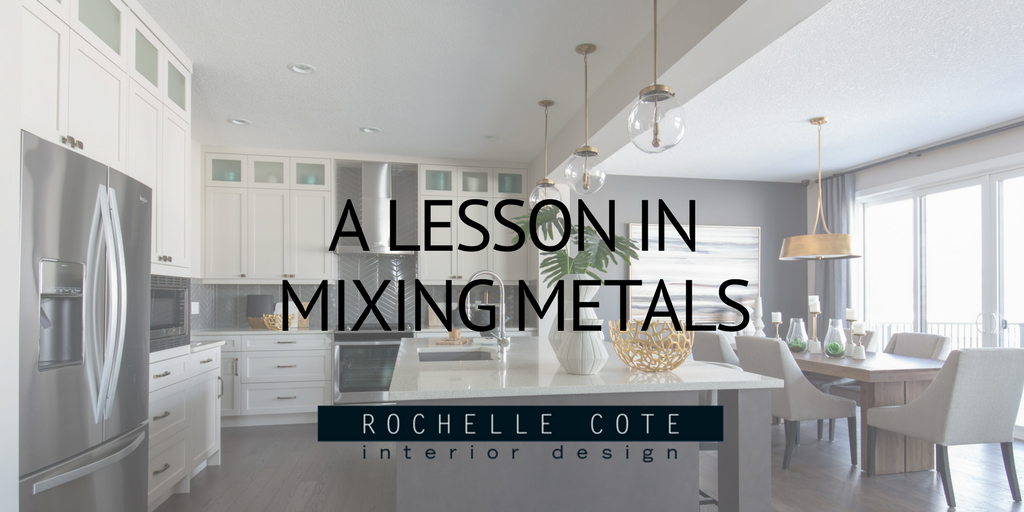 A LESSON IN MIXING METALS
The days of not being able to mix metals in your home are gone. Throw away the rulebook and go crazy mixing your metals. Chrome, nickel, gold, brass, they are all welcome!Mixing metals can be considered a bit of an art. How much can you mix? How can you make it all look and feel cohesive? Well, we are here to give you a few tips to help you on your road to become a mixing master.
Pick a Primary
While it is okay to mix metals in your home, it is important to pick a primary metal that will be the most prominent and then add subtle hints of other metals into the mix. Metals shouldn't have to compete. Bear in mind that different metals have more of an impact than others.
When selecting finishes with clients I always tell them that door hardware, cabinet hardware and lights should match, but plumbing can stand on its own. If you are looking to make a statement, try choosing a light fixture that is a different metal than your primary – this will make it really pop!
Don't Over-Do It
Mixing metals can be fun, but be careful not to overdo it. Try to stick to only two or three different metals. Playing with textures: hammered, antiqued, brushed – playing with textures can help soften the look of how your metals feel in a room.
Mix It Up
When mixing metals, it is also important not to isolate the different metals. Intermingle and disperse the metals throughout the room, so the room feels whole and connected. Try to repeat the mixing of metals in more than one space, so it doesn't stand out and look out of place. 
Mixing metals can be fun if you are willing to put in the effort to do it right. So, go against the grain and spice up your interior a little. Let's put a little mix into our life!