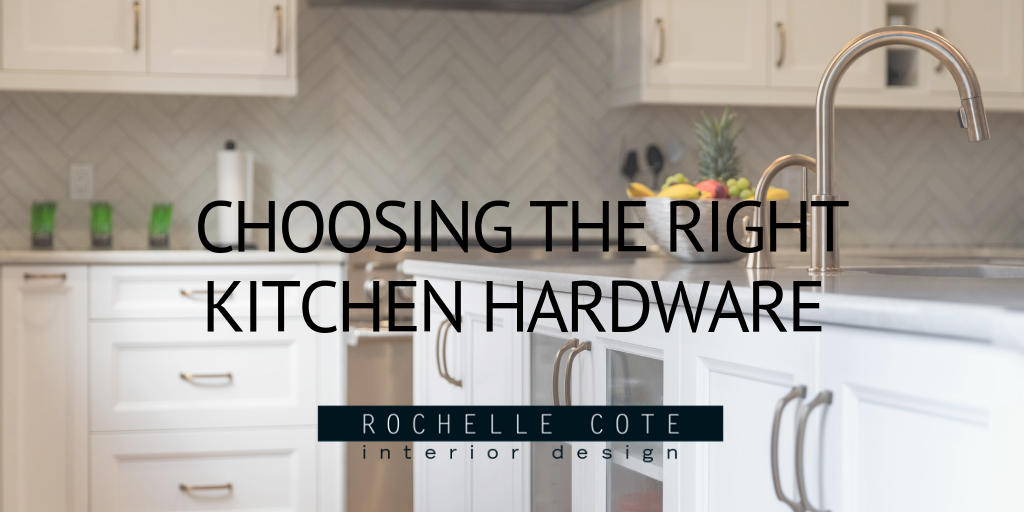 Choosing the Right Kitchen Hardware
Whether you are designing your kitchen from scratch or doing a renovation, choosing the right hardware for your kitchen is essential in bringing your project together. We have put together a few considers to help you on your way to choosing the right kitchen hardware:
Knob Vs. Pull
When choosing the hardware for your kitchen you want to make sure the hardware is functional and will meet your everday needs. When considers knobs vs. pulls, you can consider the hardware of the cabinet itself. Typically, a knob is easier for opening doors with hinges, will pulls are easier to open when they have slides. Knobs are also often used on higher cabinets, while hinges support heavier, larger cabinets. Don't feel married to one choice – mixing and matching knobs within your kitchen not only provide function, but also give some dynamic to the overall look.
Style
It seems straight-forward, but if you have traditional style kitchen then you may want a more ornate knob that brings out of the traditional flair, or if you are going for a contemporary look you are likely to select a long, clean-line pull or perhaps no hardware at all, but a push option. Whatever it is, try to keep it consistent. Trying to update an old kitchen? You can easily switch out the hardware to give your kitchen an entirely different look!
Finish
The general rule for selecting the finish of your hardware, is to match the hardware and lighting in your house. If you have black handles throughout your home, then keep it consistent and bring it through the cabinet hardware. If you are looking for resale value, the most popular finish colours are satin nickel and chrome. Moving towards a black or gold may give you a bolder look, but it may have a shorter lifespan and more of a specific clientele.
Size
The size of the hardware you choose plays a significant role in the aesthetic. Depending on the style you are trying to achieve, you will want to play with size. Typically, when you are designing a traditional or transitional kitchen the pull should be roughly 1/3 of the cabinet size. Whereas when you are designing a contemporary kitchen you tend to see pulls being 2/3 the size of cabinets or sometimes running the entire length of the cabinet. If possible, it is best to get a sample of the pull and holding it up to your cabinet to make sure it is the correct size and the style you are looking for. Meeting your installer onsite and giving clear directions on placement of the pulls is extremely important to make sure you get the look and feel you want.
Photo Credits:
https://www.pinterest.ca/pin/AZx8t6Q3hUChLwbjQXVP7cVPCj-OI-XaNaQeTAVtypR9WcAGt4J8yJQ/
https://www.pinterest.ca/pin/30610472452097572/
https://www.pinterest.ca/pin/161003755413093820/
https://www.pinterest.ca/pin/329748003952069208/
https://www.pinterest.ca/pin/819444094673567141/
https://www.pinterest.ca/pin/AZx8t6Q3hUChLwbjQXVP7cVPCj-OI-XaNaQeTAVtypR9WcAGt4J8yJQ/
https://www.pinterest.ca/pin/768778598867686882/
https://www.pinterest.ca/pin/768286017658494123/
https://www.pinterest.ca/pin/186829084527708226/
https://www.pinterest.ca/pin/485614772318567646/
https://www.pinterest.ca/pin/182677328615674664/