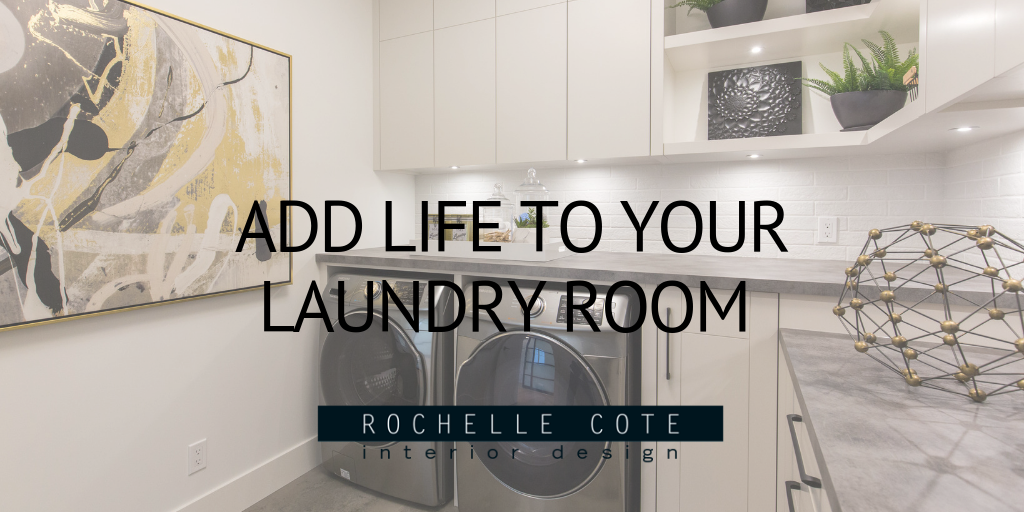 Add Life to Your Laundry Room
I don't think I've ever met someone who actually enjoys doing the laundry. Let's face it, it's not usually on people's list of top things to do. But, nevertheless it is something we all must do. Why not add some life to your laundry room and make it a little more bearable?
Functionality is key in a laundry room, especially if you have a large family! Laundry rooms are one of those places that can become a dumping ground if you are not careful and seem to get easily cluttered. When designing a laundry room I like to cater to the specific needs of the family, but in general most laundry rooms need a space for sorting, washing, drying and folding. Keep a functional laundry room by having a place for everything and everything in its place.
When it comes to washers and dryers front load facing machines are the most water efficient. Not only that, but they provide a flat surface on top ideal for folding clothes, as well as storing detergents and other products. If you are short on space, incorporating shelves into your laundry closet or your upright washer dryer can be fundamental in providing adequate storage and functionality.
Baskets or pull out drawers with bins help keep you and your family organized, making it that much easier when you actually go to do the laundry. Having a schedule and designated areas helps things stay organized and easier to manage.
I like to incorporate a drying rack or a hanging rod in my laundry rooms if I can. Hanging rods are great above your counter, giving you easy and quick access to hang up your clothes fresh out of the washer. If you airdry most of your clothes, you may want to consider a wall drying rack system. These can easily fold out when you need them, but fold back up for a clean look when they are no longer being used.
When decorating a laundry room, I like to keep it to the basics. Baskets are a great way to store items and keeping things looking clean. For easy access and a fun look you can get clear jars to hold items like clothes pins, dryer balls and detergent packets. They not only look good on your counter, but are always at arms reach. Adding plants can bring some life to your space and brighten the mood.
I generally like to keep laundry rooms bright and airy, so light colours are great for making your space looking fresh and clean – perfect for a laundry room! Laundry rooms are not typically a space you share with guests, so feel free to have a little fun and make it your own. You can do this by adding colourful or playful art or by adding some funky boxes or baskets.