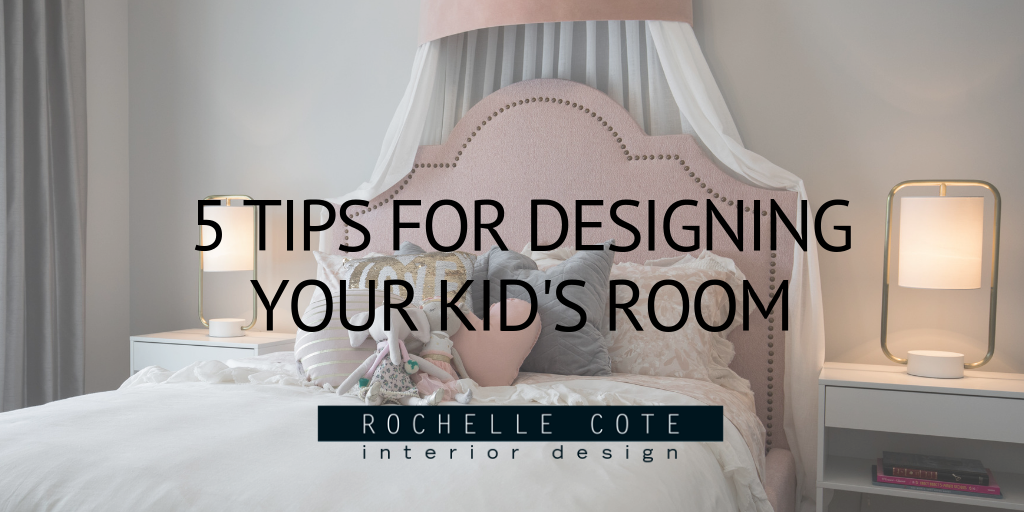 5 Tips for Designing your Kid's Room
Designing kid's rooms is fun! You can push boundaries a bit more and have fun with it. That being said, kids are always growing and changing so you want to create a room that will last and grow and change with them. We have put together five tips when designing your kid's room:
Timeless
When you have kids, you learn early on that kids grow out of things quickly. To make sure you aren't spending a fortune every couple of years, you should try to design your kids' room to be timeless, so the room can grow with them over the years. Whether that is a convertible crib or a bed that is a basic style, these main items should remain neutral and then you can easily change the bedding and art to change the look of the room.
Let Them Have a Say
You want your kid to like their room and feel like they had a say in making it theirs. But let's be honest, depending on the age, your kids may not have the same style that you would like to go with the rest of your home. Picking the main pieces, such as the dressers and bed to fit your style and then letting your child pick smaller items like toss and art can make things a bit more manageable. Another trick is to pick three options that you like and show your child the options and let them pick the one they like best. This way you are getting a say in what things look like, but they still feel like they are making the decision.
Storage
With kids come a lot of stuff, so storage is key! Having nightstands that have storage and dressers are great to keep things organized and uncluttered. If your kids keep most of their toys in their room, you may want to get a kallax bookcase and baskets to keep things out of the way and contained in one spot. Adding picture ledges are a great way to store books and make a reading corner or combine with toys and art to add interest. You can easily switch things out as your kids grow or as you get tired of them.
Cleanability
Kids are messy, so it is important to have their furniture pieces be cleanable. If you have small children wood pieces make it easy to clean up spills and dirty fingerprints. If you choose to go for a fabric option, try to pick fabrics that have a high polyester content, so you can easily wash it if something happens.
Create a Feature
Adding wallpaper or paint can create a feature for your kid's bedroom. Wallpaper can be a more expensive option, but if you pick a fun wallpaper that is a bit more basic it can grow with your child and you can get your money's worth out of it. Polka dots and geometrics are great options for this! Another way to make a feature but keep things less expensive is paint! Either picking a single feature colour on your headboard wall or using alternate colours to create stripes is a great way to add that impact without spending a ton and it can easily be changed out as the years go by!
Photo Credits:
Adrian Shellard Photography