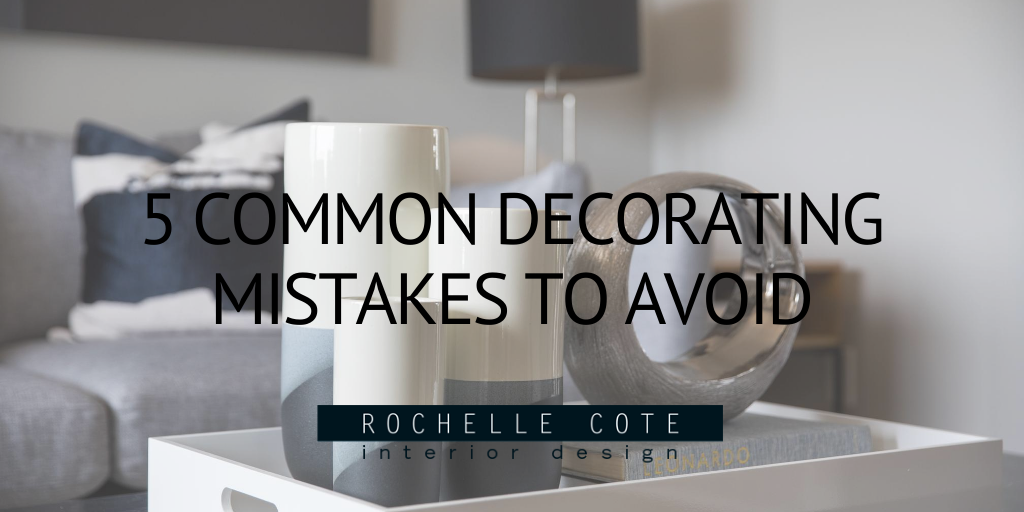 5 Common Decorating Mistakes to Avoid
Whether you just moved and are ready to start decorating your new home or if you are looking to refresh your current home, here's a list of five common decorating mistakes to avoid:
The Floating Carpet
I see it time and time again, people often have too small of an area carpet for their space. People tend to under-size their area carpets, making the room appear 'off' with a deserted carpet in the middle. A carpet grounds the space and makes it feel cozy and inviting, so it is important to get it right. An area carpet should fill the majority of your space, with your furniture legs on halfway or completed off. Your carpet should not extend past your furniture or be over a few inches away from your furniture layout.
Bitsy Accessorizing
A common mistake that people make is over-decorating. Scale is very important when it comes to accessorizing. It is better to opt for fewer but larger items to give a clean and polished look. When people piece together a bunch of small accessories it will give a cluttered "bitsy" look.
Narrow-Minded Buying
People often gravitate towards a look of a particular store. The misconception is that the client should go into that store and buy everything right then and there. Not only does buying everything from one place give your space a phony, out of the catalog look, but it can also be hard on the budget. There is no shame in mixing and matching items. IKEA is great for inexpensive items which look fantastic when you pair it with other items. Many people won't even be able to tell it is from IKEA! So shop around and see what items are worth spending the extra money on and what items you could settle for a little less.
Mix and Match
Gone are the days when everything in your house must match. Instead of buying an entire set of living room furniture where your loveseat, chairs and sofas are all the same and your coffee table and end tables match, buy pieces that complement each other instead of replicating each other. Mixing and matching furniture and fabrics will give your space interest and depth. If you struggle with this, don't worry that's what we are here for! It is a designer's job, we do it every day, so don't be afraid to ask for some help!
Fad Designing
Just like our awful outfits and haircuts from the 80's, fads come and go in the design world. To avoid constantly re-decorating, I recommend that anything over $1000 clients should opt for the neutral or classic option. But that doesn't mean that you can't still have some fun! Things like toss, accessories, art and paint can change the look of your space drastically, but without being a huge pain to change down the road.
Photo Credits:
Shellard Photography