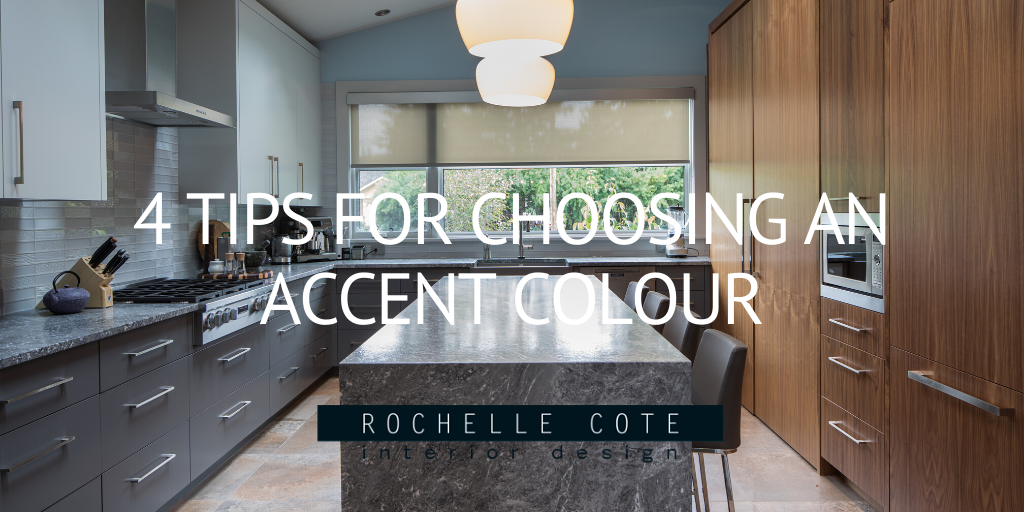 4 Tips for Choosing an Accent Colour
Adding an accent colour to a room can create interest and take your room to the next level. But before you dig out your paint brush, take a look at these four tips that will help you choose the right colour.
Let Colour Inspire You
When choosing an accent colour we often look towards a client's art and accessories for inspiration. Often you can choose a colour from a piece you already have and run with it. The colour will tie the room together and often people don't know it, but they will be already be comfortable with the colour because they have been living with it and are already a fan!
Consider the Mood of the Room
It is crazy the impact colour has on your mood. There have been so many studies showing the effects colour has on people, so it is important to consider the mood of a room when selecting a colour. Neutrals and cool colours such as blues, greens and greys tend to offer a sense of calm, which is great for bathrooms and bedrooms. On the opposite end, warm colours such as reds, oranges and browns energize and create a social atmosphere. Dark tones can give a moodier and more of a formal look, while bright colours can increase unrest and irritability. Think about what the space is being used for and the look you are trying to achieve to help lead you to right colour for your space.
Choosing the 'Right' Colour
Often when people are choosing an accent colour for a feature wall they are tempted to go bright and bold. However, when you are painting an entire wall these bright bold colours can be a lot more overwhelming then the one-by-two swatch in your hand. Instead you should opt for a slightly greyed tone or a colour in the same colour family as your main colour. Trust me, you won't get tired of the colour as fast and your eyes will thank me!
Testing the Colour
Choosing a paint swatch off a paint fan is great, but you want to make sure the colour translates correctly to your space. Lighting is a key factor in how the colour you chose will look in your space. Whether your room has tones of natural light or is shadowy and dark, the colour will be affected and will look different in different spaces. That is why it is important to make sure you look at the swatch in the room you are thinking of painting. Once you find the colour you want, ask for a larger swatch so you can hold it up and get a better feel for the colour. Still not ready to take the plunge? You can also get a small sample to test paint on your wall to get a better feel for how it will look.
Happy Painting!
Photo Credits:
Shellard Photography
https://www.google.com/imgres?imgurl=https%3A%2F%2Fimages.food52.com%2Fum3S0JOjyH10gCl7nwX7mBMPlD4%3D%2F1200x1200%2F25975bb6-4c2e-4162-b5ba-8c3a7f8fad2f--2019-0618_paint-test-on-wall_3x2_bobbi-lin_4218.jpg&imgrefurl=https%3A%2F%2Ffood52.com%2Fblog%2F23443-best-colors-to-paint-bedroom-according-to-interior-designer&tbnid=5hcI9GPkjAMABM&vet=12ahUKEwia9u3055rqAhURIX0KHdSnAl0QMyg5egQIARA6..i&docid=Sn7KKVHbLFL83M&w=1200&h=1200&q=testing%20a%20paint%20colour&ved=2ahUKEwia9u3055rqAhURIX0KHdSnAl0QMyg5egQIARA6