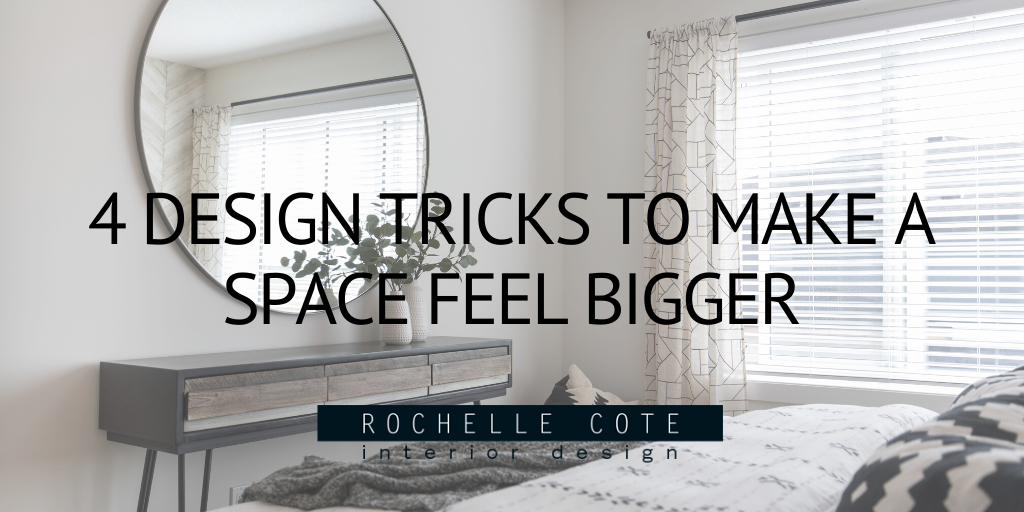 4 Design Tricks to Make A Space Feel Bigger
Everything counts in a small space! We'd all like the big house, but that is not always the case. Here are four design tips and tricks to make your space feel bigger. You don't have to sacrifice the look with a small space, you just have to think 'bigger'.
1. Mirrors
Mirrors are a great way to open your space because they reflect light and they also reflect their view, tricking the eye into perceiving more space. A well-placed mirror can do wonders! Try placing mirrors across from windows to reflect more light, in hallways or across a back wall of a small room to open up your space and make your room feel larger. Mirrored closet doors in a bedroom can also be great to open up your space; they will make the room appear larger, but also act as a mirror for getting ready!
2. Keep Things Light
Lighter colours reflect light, so it should come as no surprise that lighter colours make a room feel larger. I typically suggest going with white walls, a soft gray or cream. Some of my favourites are Benjamin Moore: Oxford White, Silver Satin and Pale Oak. Keeping things light and soft in your fabrics will create a neutral and cohesive look that makes a space bright and airy.
3. Airy Furniture
Choosing furniture with a more open look will in turn give your room a greater sense of openness. For example, choose a sofa with a higher leg as opposed to a low boxy look. If you have a small dining or kitchen space, choose a stool that can tuck under the island and dining chairs that have cleaner lines or an open back. Creating space between objects lends to the illusion of a larger space by creating a sense of openness and movement.
Another thing that people often mistakenly do is to push their furniture up against the walls. Bringing your furniture away from the walls creates a sense of roominess and will also give your space a more polished look.
4. Keep It Simple
It sounds like common-sense but keeping your space simple and decluttered is the best way to make your space look bigger. Go through your home and if there are things you haven't used in the last year – declutter! It will not only make you feel better to have things you don't need, but it will also be easier to keep things clean and ultimately, make your space feel larger!
Small spaces are all about editing. The more patterns, colours and pieces you have in a room, the more cluttered and squished it will feel. Group your knickknacks together so they can read as one set and pair your art down to a few pieces or a single gallery wall. It is not a crime to leave space in a room, it actually acts as breathing room for our eyes. If you do opt for colour or a bold wallpaper, try using it on one wall as an accent. Be intentional about what you put into a room and you'll be well on your way to making your small space have big impact!
Photo Credits:
Shellard Photography