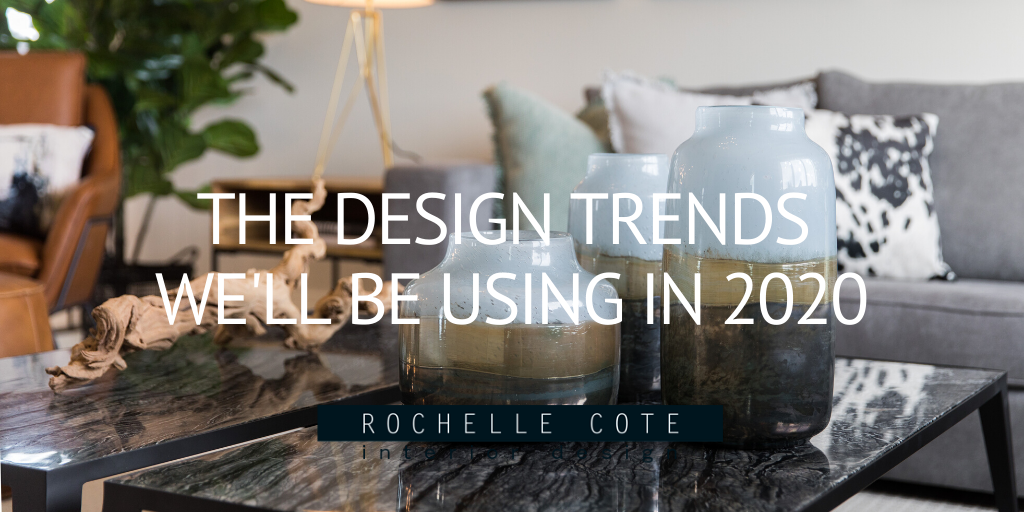 The Design Trends We'll be Using in 2020
Ah 2020, a new year and a new decade. Each year experts study and predict trends for the coming year. While we are still seeing a lot of trends from 2019 carry over (gold, mixed metals, velvet fabrics, large-scale florals and pastel pinks) there are definitely some new trends for 2020 that we are excited about! Here are some of the trends you can expect to see in the new year:
Dramatic Black
In the past, people have shied away from black in fear that it was too bold and that it would make a room look smaller. However, in 2020 people are finally embracing black. I have always loved the dramatic look of introducing black into your home. Don't be afraid to paint a feature wall black. Using the black as a base and layering lighter tones and colours on top creates a sophisticated look. I am also having fun introducing black into kitchens. Combining black cabinets with white or oak elements create a dramatic and appealing look that I am in love with!
Art Deco Making A Comeback
Isn't it funny how design goes through cycles? Last year mid-century modern style came back fiercer than ever. And this year, we are seeing the trends shift towards more of an art deco look. Differing from the original art deco style, we are seeing a softer version of the style – more of a clash between scandinavian and art deco. Light woods are being pair with modern shapes, soft pastel tones and glass accents creating an inspired, classy look.
Upcycling
We have been hearing about climate change and reducing our ecological footprint for years, but 2020 is bringing that issue to light. We are finally seeing manufacturers and client being more conscious of what they are putting into their home. We are seeing more and more people refinishing old furniture pieces. We are also seeing people using reclaimed wood as features and businesses like IKEA are created recycled products and repurposing materials. Feel great about helping the environment while making your home look awesome!
New year, new you. Don't be afraid to take the plunge and incorporate some of these design trends into your life. I know I will be!
Photo Credits:
https://www.pinterest.ca/pin/726486983620082465/
https://www.pinterest.ca/pin/5629568272098993/
https://www.pinterest.ca/pin/157274211975102495/
https://www.maxwellfabrics.com/sites/dev.maxwell.com/files/styles/roomshot_lightbox/public/roomshots/Maxwell-Fabrics_190714006_01.jpg?itok=8ZgxM5PD
https://www.google.com/imgres?imgurl=https%3A%2F%2Fmiro.medium.com%2Fmax%2F1200%2F1*jBZswMwt73TrPFT6JhVNQA.jpeg&imgrefurl=https%3A%2F%2Fmedium.com%2F%40valuedoors1uk%2Fadding-an-art-deco-style-to-your-home-bc5806491743&docid=h93BWdyMIQu6AM&tbnid=tmt9qfmFsIKDxM%3A&vet=1&w=900&h=600&bih=888&biw=1920&ved=2ahUKEwjy-fyr8vnmAhXNoFsKHSEiAdcQxiAoAHoECAEQFw&iact=c&ictx=1#h=600&imgdii=DLkTZf6WFF70FM:&vet=1&w=900
https://www.pinterest.com/pin/7248049388798785/
https://www.pinterest.ca/pin/574771971188797031/