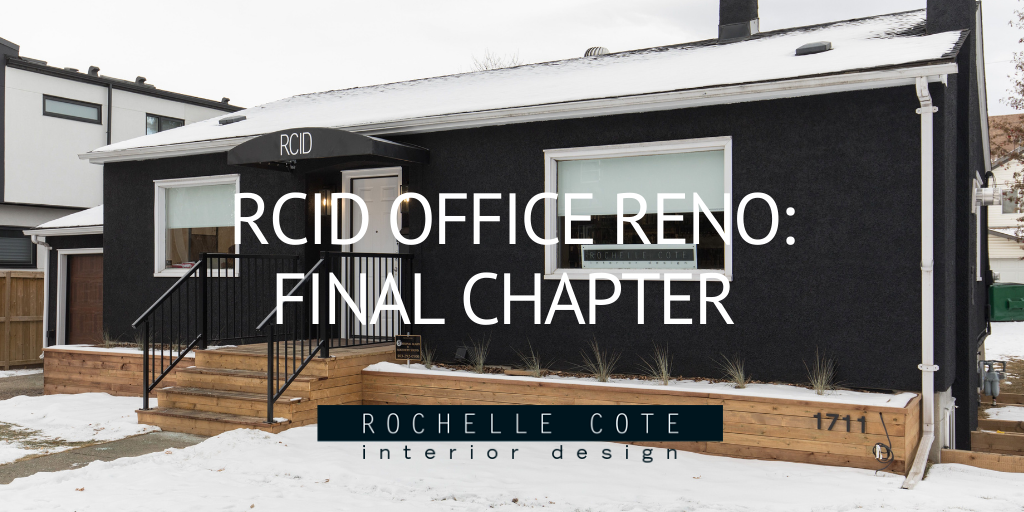 RCID Office – Chapter 5: Office Renovation Finalized
As most of you know…we have MOVED to a new office space in Marda Loop?
Moving In…Finalizing the Space
Well, this is it!  We've moved in and have adjusted to the awesome new area; Marda Loop!  We love the fun vibrant area, and the central location to…EVERYTHING.  We had a busy Fall, but managed to get everything moved in, and are feeling more settled.  So I thought that I would take a minute to show you the finalized space…we hope you like it as much as we are enjoying it.  We are feeling very blessed.
Landscaping & Signage
Thank you to Plantalandscape for getting the backyard landscaped prior to the snowfall.  Being as it is snow filled now, I don't have a tonne of photos at this time, but I am looking forward to seeing it in the summer months again.  I am so grateful that we were able to get the backyard cleaned up and finalized.  The front awning just finished the front entry. We are so excited to have our logo up on 33 Ave SW!
Boardroom/Kitchen
We love how quaint our new little office is.  We hope that our clients feel a warm, hospitable space as they enter the front door.  We are a small high-end residential design firm, and this space displays that vibe.  The boardroom has a nice fireplace to add warmth to the space, as well as a lot of our fabric books for ease of viewing.
`
Offices/Kitchenette
The offices are shared but offer ample space for us to social distance and create!  The kitchenette is a good break space.
Dining Room/Additional Meeting Space
I love to spend time in there and in the dining room at the banquette.  It is so nice to see outside (get inspired) and create with natural light!  This new little vanity in our bathroom was done by Elegant Cabinetry.  They do such a great job on cabinets like this…
Back Hall & Stairwell
Thank you to  Divine Flooring, Prestige and Cartwright for making our back hallway look so good!
Garage/Warehouse
The garage is finished, and I love how much room we actually have in there! Looking forward to filling it up.  One of my favorite things is the corregated black metal siding…I love the aesthetic on it.
Thank you…
We are so excited to have worked closely with Rockcreek Builders on this transformation.  Thank you to all of the trades and suppliers that helped us. Below are a list of people/ companies that I would like to recognize with a special shout out:
Brent, Brett & Aric; Rockcreek Builders & Team and all of the Rockcreek Subtrades
Gary; Prime Electrical
Harry; Eon Plumbing
Cindy; Wolsely Studio
Josh; Cartwright Lighting
Ashley, Anthony & Katie; Divine Flooring & Team
Anca; Tile Setter
Kim, Ian & Francois; Elegant Cabinetry & Team
Ben & Cody; Prestige Staircase & Team
Celtic Finishing Team
Cory; Rokosh Painting
Kevin; Vernon Painting & Team
Maria, Frank & Andrea; Planta Landscape & Team
Jerry; Kingdom Doors
Mike; Calgary Tent & Awning
Lux Windows
Ross & Avery Ewaniuk
Vern Cote
The RCID Team
Paul & Quinn, Monarch Messenger
**Anyone else that I may have not named here that helped us with the space…
Thank you…again!
Photo Credits:
Shellard Photography
https://rochellecotedesign.com/blogs/news/rcid-office-chapter-5-office-renovation-finalized