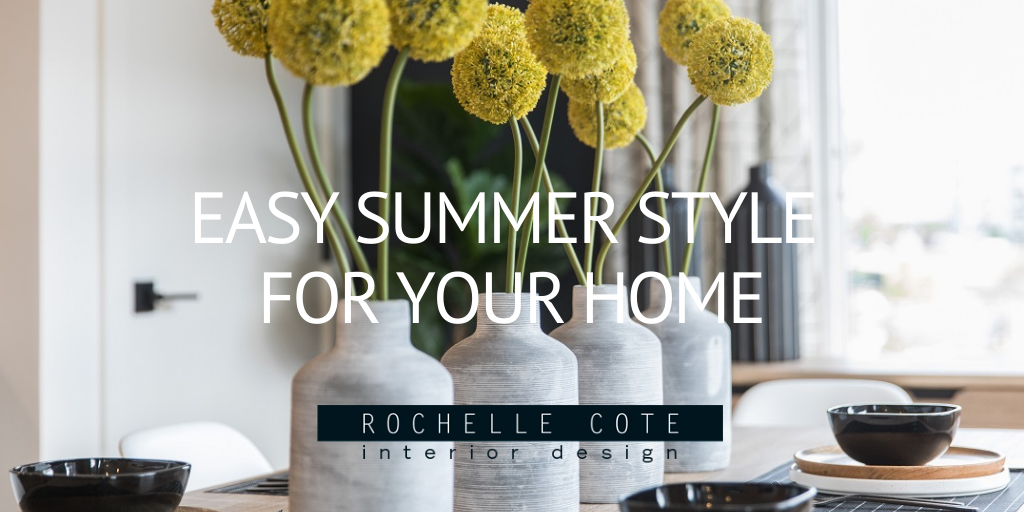 Easy Summer Style for Your Home
There's no better time to freshen up your home than during the summer. The days are longer, the sun is brighter and the mood is light and easy – all of which can be reflected in the style of your home! Try switching out your throw pillows for bright coral or orange tones, introducing more greenery, or sprucing up your outdoor space with fun dinnerware.
Bring the Outdoors In
Summer is a great time to introduce more plants into your home. Buying fresh blooms is the perfect way to add colour to your space, plus you can switch it up more often depending on what's in season. Adding faux plants is another great way to go if you want to add some greenery to a room that doesn't get a lot of natural light, or if you don't have a green thumb to keep real plants alive!
Lighten Up!
Switch up your accessories in the summer with brighter colours and lighter fabrics. Easily switch out accessories like toss cushion and throw blankets seasonally so your home can feel light and bright in the summer and rich and cozy in the winter. Fabrics like cotton and linen are perfect here as they are light and breezy.
Entertain Outdoors
Summer is the perfect time to take your guests outside and enjoy a meal al fresco. We love the look of wood dinner plates in the summer months paired with bright yellow florals. If a pop of colour is more your style, try pairing linen yellow napkins and placemats with cool grey stoneware plates. To add a polished touch to your outdoor space, make sure to add an outdoor rug to tie the space together and provide comfort underfoot for guests.
Lounge About
Make the most of whatever outdoor space you have by investing in quality outdoor furniture that will last. Spend time outside doing the things you love most be it lingering over a bbq dinner at your sleek outdoor dining table or lounging on a plush sectional reading your favourite book with a glass of wine.
Play With Fire
Whether you've got the room for a fireplace or just a few candles, fire brings a sense of nostalgia and warmth to your space while creating ambiance. We love a gas fireplace with a wood or stone surround to make a statement. On a smaller scale, candles set in a woven or glass lantern are a great way to add a touch of fire to your outdoor area – plus you can move them around and play with different sizes and combinations depending on the mood you want to create.
Photo Credits:
Shellard Photography