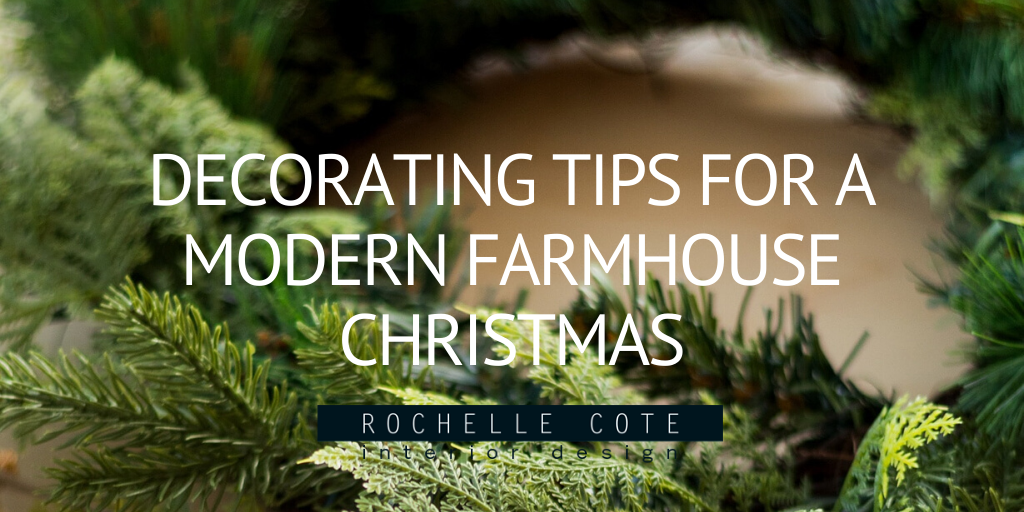 Decorating Tips for a Modern Farmhouse Christmas
I've always loved the Modern Farmhouse style and incorporating into your Christmas décor is even better! The thing I love about the Modern Farmhouse Christmas is that it gives that classic, cozy Christmas feel. To help you out, I've put together a couple decorating tips to get that Modern Farmhouse look for the holidays:
Making an Entrance:
Set the tone for your Modern Farmhouse Christmas as soon as people come to your door. Try taking a class or DIYing at home to make your own wreath. With just a few materials, you can make a beautiful wreath that you'll be happy show off to guests!
The Tree:
The tree is always the centerpiece for holiday décor, so make it shine with modern farmhouse touches! Keep it simple, sticking in the neutral tones for ornaments (bronze, white, silver), incorporating hints of pine cones, burlap accents and a wicker tree skirt are essential in bringing to life the modern farmhouse look. And remember Grandma's old ornaments? Well feel free to use them with your modern farmhouse tree – the vintage ornaments will give your tree a charming look.
Keep the look going under the tree by wrapping gifts in simple brown or neutral wrapping paper with a bow!
Christmas Dinner:
What's more intimate than Christmas dinner with your family? Not a whole lot, so bring the cozy modern farmhouse look to the table. Let's be honest, there is usually so much food at Christmas that it is hard to find space for everything, but that's what's great about the modern farmhouse look. A simple spray of pine branches and some candles give a classic look with keeping the cost down and space to a maximum. Simple linen napkins complete the look!
Cozy Textures:
A warm fire, hot cider, and family make that cozy, special feeling complete. So make sure guests are comfortable - introducing soft pillows and throws in caramel browns, deep greens and soft plaids give that cozy Christmas feel. Be careful though, your in-laws may never want to leave!
Only a few more weeks till Christmas. Have fun and happy holidays!
Photo Credits:
https://www.pinterest.com/pin/545991154826846587/?nic=1a&sender=379006262299430816
https://www.pinterest.com/pin/837669599422488269/?nic=1a&sender=379006262299430816
https://www.pinterest.com/pin/811070214127720581/?nic=1a&sender=379006262299430816
https://www.pinterest.com/pin/815996026215244156/
https://www.pinterest.com/pin/783907878867219419/
https://www.pinterest.com/pin/379006124893799876/
https://www.pinterest.com/pin/176625616625500355/
https://www.google.com/imgres?imgurl=https%3A%2F%2Fwww.maisondepax.com%2Fwp-content%2Fuploads%2F2019%2F11%2Fmoder-farmhouse-christmas-decorating-ideas-magnolia-garland-tablescape.jpg&imgrefurl=https%3A%2F%2Fwww.maisondepax.com%2Ffarmhouse-christmas-tablescape-decorating-ideas%2F&tbnid=CMHQ7oP43AKG1M&vet=10CDMQMyh8ahcKEwjo4YPf5qHmAhUAAAAAHQAAAAAQAg..i&docid=204qXGZHVi7AeM&w=900&h=1350&q=modern%20farmhouse%20christmas&ved=0CDMQMyh8ahcKEwjo4YPf5qHmAhUAAAAAHQAAAAAQAg
https://www.google.com/imgres?imgurl=https%3A%2F%2Fwww.maisondepax.com%2Fwp-content%2Fuploads%2F2018%2F11%2Fmodern-farmhouse-christmas-dining-room-tablescape-12.jpg&imgrefurl=https%3A%2F%2Fwww.maisondepax.com%2Fmodern-farmhouse-christmas-dining-room%2F&tbnid=0auEW-ngQBb9BM&vet=12ahUKEwjR_uLN5qHmAhUYhp4KHZtZDcYQMyhKegUIARDNAQ..i&docid=_zVAmJYkjiimoM&w=900&h=1350&q=modern%20farmhouse%20christmas&ved=2ahUKEwjR_uLN5qHmAhUYhp4KHZtZDcYQMyhKegUIARDNAQ
https://www.pinterest.com/pin/262616222009870267/
https://www.pinterest.com/pin/666955026050893244/?nic=1a&sender=379006262299430816
https://www.pinterest.com/pin/791859546966094601/?nic=1a&sender=379006262299430816
https://www.pinterest.com/pin/48906345937352198/