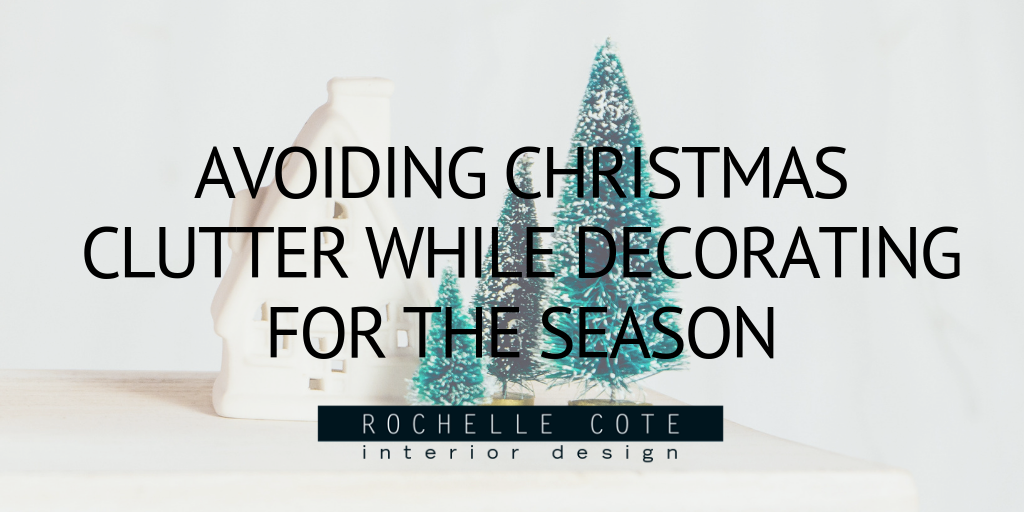 Avoiding Christmas Clutter While Decorating For The Season
We are heading into December and that means Christmas is just around the corner. Before you get carried away decorating for the holidays, take a look at our tips on avoiding clutter this Christmas season.
One For One
With Christmas comes decorations, gifts, lights, kid's crafts and holiday cards making it is easy for things to get out of hand. We recommend starting with a blank canvas and removing your everyday accessories to make room for your Christmas decorations. Instead of layering decorations on decorations, you will keep the clutter down and keep things looking a bit more wholistic. A good rule of thumb, is to take one, add one. Swap out that decorative vase on your coffee table for a decorative wreath and so forth.
Purge
No one really knows how it happens or when, but years pass and we somehow end up with all sorts of things we no longer need or use. This year take the time to go through old decorations and decide on what should stay and what should go. No sense keeping that sixteen-year-old tree skirt you haven't used or that burnt out strand of lights. If you haven't used something for the last holiday seasons, then consider donating or selling. Nothing better than spreading the holiday cheer, right?
Tone It Down
I think we can all admit that Christmas is awesome, so it is easy to get caught up in the Christmas spirit and go a bit overboard. One way to avoid the clutter is to tone down the traditional bold colours of red and green and go a opt for a more natural look. Adding garland, wreaths or other natural elements still add that festive flare, without being overbearing. Not to mention, they make smell great! Classic white lights are also great for giving that holiday glow without being in your face. Sticking to a more classic or neutral palette will keep your home looking classy this Christmas!
Stick With A Theme
It's okay to have colour in your Christmas decorations, we welcome it even. To avoid things from looking busy and cluttered try to stick with a common colour of theme.
Happy Decorating!
Photo Credits:
https://www.google.ca/imgres?imgurl=https%3A%2F%2Fcontentgrid.homedepot-static.com%2Fhdus%2Fen_US%2FDTCCOMNEW%2Ffetch%2FCategory_Pages%2FHoliday_Decorations%2FChristmas-Hero-Mantel.jpg&imgrefurl=https%3A%2F%2Fwww.homedepot.com%2Fb%2FHoliday-Decorations-Christmas-Decorations%2FN-5yc1vZcgxo&docid=AfYznp-ymQs10M&tbnid=iPMABRDHmcMA8M%3A&vet=12ahUKEwiYn8i1sMjeAhWEI3wKHeSxBnA4yAEQMygmMCZ6BAgBECg..i&w=1200&h=300&bih=938&biw=1920&q=christmas%20decorations%20interior&ved=2ahUKEwiYn8i1sMjeAhWEI3wKHeSxBnA4yAEQMygmMCZ6BAgBECg&iact=mrc&uact=8
https://www.pinterest.ca/pin/565624034435856368/
https://www.pinterest.ca/pin/442760207101115356/
https://www.pinterest.ca/pin/50524827049831006/
https://www.pinterest.ca/pin/55028426676506059/
https://www.pinterest.ca/pin/210332245075188997/
https://www.pinterest.ca/pin/13581236357693077/
https://www.pinterest.ca/pin/311381761716767292/