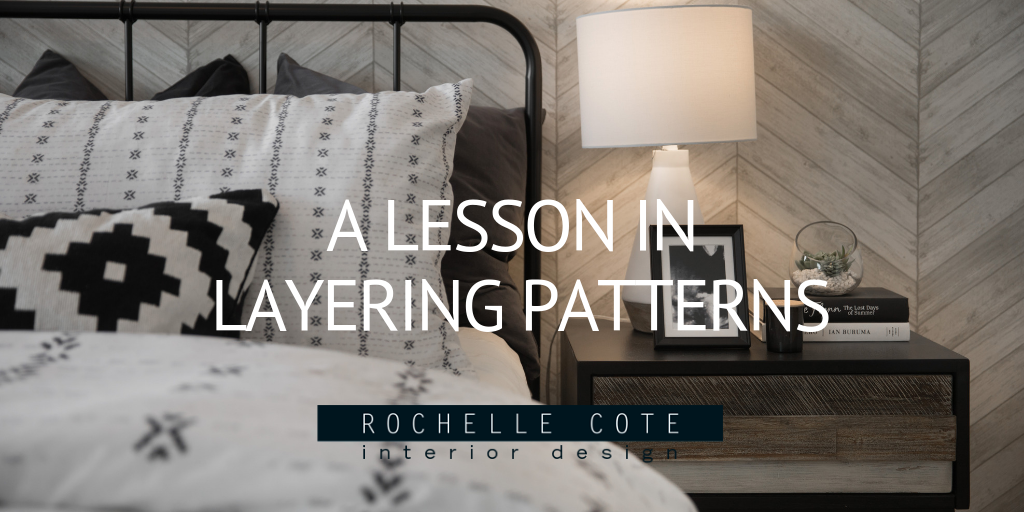 A Lesson in Layering Patterns
Layering patterns in your home creates interest and brings a space together, but you have to know how to layer correctly. We have put together a few helpful tips to set you on your way to become a layering master!
Vary the Scale
When layering you will incorporate a series of different patterns. By varying the scale of these patterns, it helps achieve balance and allows your eyes to adjust and take it all in, instead of being overwhelming to the eye.
In this master bedroom below, we used a variety of geometric and abstract patterns, but we varied the scale to get a balanced look. On the back wall we used a subtle geometric, then we decided to make the bed pop using soft neutrals with a large-scale geometric to make it stand out, then finally we used textured and abstract toss on the bed to warm up the look and create some variance. The bench uses grey and white tones to tie in all the tones.
Have A Common Thread
The most important thing in my opinion when it comes to layering is to have a common thread. This is a piece to tie everything together. Something that combines everything in one and makes all of the different textures, colours or patterns make sense.
In the image below, there are several different patterns and colours throughout the room, but the bold artwork combines all the colours and ties it all together.
Mix Patterns
This is where people usually get a bit daunted by layering. People get the idea that they need to stay in the same colour scheme or repeat the same patterns, but as stated earlier, you just need a common thread to pull the different patterns together.
In the bedroom below, we played with the calming texture of a grasscloth as the backdrop for the space. We then mixed solid patterns with an oversize paisley and abstract stripes. This mix of patterns adds some variety to the space and creates a dynamic look.
Similarily, in this living room we used a wood wall to add texture to the space, and then incorporated varying geometrics, bohemian-inspired patterns and fun textures to give a soft and inviting feel.
Add Texture
Another way of layering is to play with texture. If you want more of a consistent look, you can stick with neutral tones but play with different textures to create interest.
n the living area below, we wanted a natural, airy look so we used a variety of light fabrics and natural materials to achieve a monochromatic look that still has impact. A larger scale carpet made out of a textured jute grounds the space, while patterned toss and poufs break up the monotone colours.
Photo Credits:
All photos by Shellard Photography