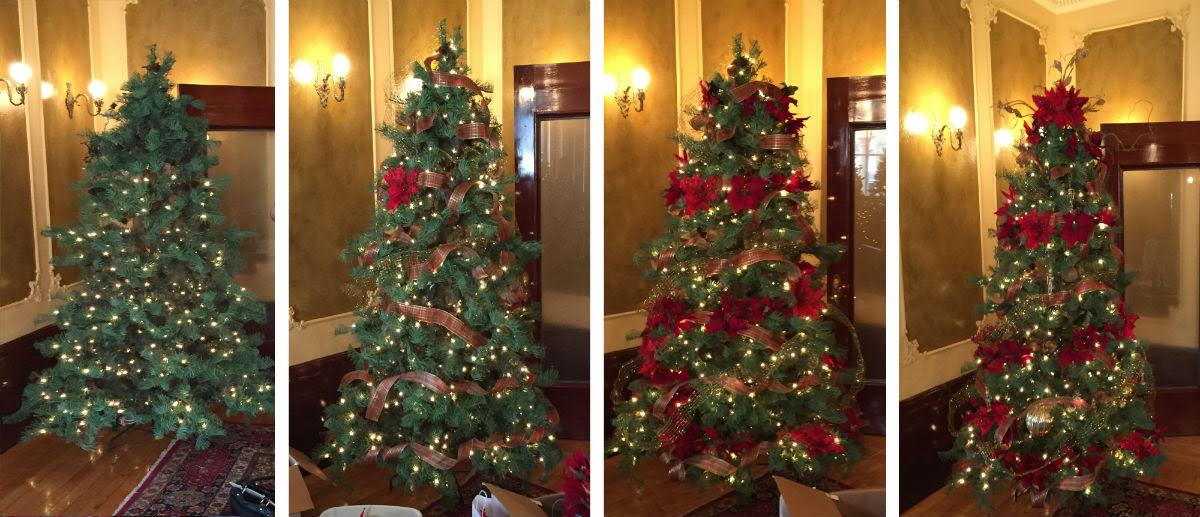 A BEHIND THE SCENES LOOK AT DECORATING THE LOUGHEED HOUSE
This was my second year with the Calgary Design Group decorating the Lougheed House.  We had a great time today. It always puts me in the festive spirit of Christmas when I decorate.  Here are some behind the scenes photos and tips for Christmas decorating.
I always start with ensuring that all of the lights work, and the tree is evenly lit.  After the lights have been strung, I add a colorful ribbon. The ribbon can be hung either vertical or horizontal. The trick in hanging the ribbon is to twirl the ribbon as you move around the tree, but let the curls fall loosely to create an organic look. Once you have hung the ribbon, you can go back and add additional ribbon going in the opposite direction.  This ribbon should stick out from the tree a bit more to add depth and dimension.  I always use wire ribbon the second time so that you can scrunch it and maneuver the ribbon the way you want it.
Try to find high impact decorations to get the most bang for your buck; such as large red poinsettias that I used on this tree this year. To complement the red poinsettias, I then added large gold and silver balls.  The balls don't always have to hang, they can be stuffed into the tree so that you see the bottom of the ball.
A tree is never complete without something on top.  This can be anything from an angel, to a star, or a DIY topper. For this situation we decided to go the DIY route. By using the same poinsettias from below, we grouped them together and added some branches to give the tree extra height and interest.
It is important for your tree to reflect you and your space. For this project I tried to reflect the classic elegance of the space.  Thank you to all of the designers from the CDG that donated their time to help make the space great.