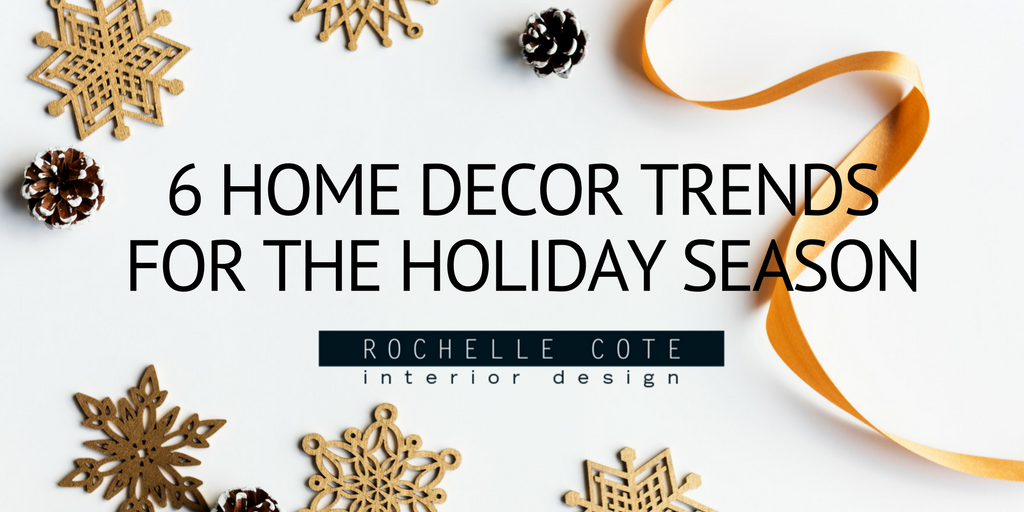 6 HOME DECOR TRENDS FOR THE HOLIDAY SEASON
Only a month before Santa Claus comes to town. So deck the halls with these holiday trends!
Keeping A Low Profile
Let's be honest, our Calgary winter can make it tough to get outside and put up our Christmas lights. Don't stress, green planters and outdoor décor on your porch can put your house in the Christmas spirit without risking a fall. 
Not Just Your Average Green and Red
It seems that people are moving away from the traditional red and green Christmas and using golds, blacks, whites and metals to create a simple and sophisticated palette, while adding greenery to soften the look. 
Luxe Utensils
Tis the season of spiced eggnog, apple cider and festive cocktails. Gold is in. So glam up your bar accessories this year and make your drink-making skills sparkle.
Simple and Clean
Avoid the clutter this year and go simple and classic. Keep things light and bright with white festive accents and simple greens; the perfect mix of clean and classic.
Faux Fur
What's more comfy than some cozy fur? Fur is in, and we are loving it! Faux fur tree skirts, stockings and cozy blankets are adding a warm comfort this season. 
Switching Things Up
Need to upgrade your ornaments this year? There are tons of fun trending ideas for your tree. Mixed metals give a vintage classic feel to your tree. Go black and bold. Funky shapes give your tree a twist. Whatever suits your style, there are tons of options to switch it up this year.  
Happy Holidays, may they be merry and bright!
Photo Credits:
https://www.potterybarn.com/products/caramel-ombre-faux-fur-treeskirt/
https://www.potterybarn.com/products/faux-fur-solid-blanket-sham/
https://www.google.ca/url?sa=i&rct=j&q=&esrc=s&source=imgres&cd=&ved=0ahUKEwjmgsXS8s3XAhUnslQKHRQdASQQjxwIAw&url=https%3A%2F%2Fwww.pbteen.com%2Fproducts%2Ffur-stockings%2F&psig=AOvVaw2KduEk06HO58bRxuDd3daP&ust=1511292826991877
http://www.bykoket.com/blog/the-best-luxury-christmas-tree-decoration/
http://www.homedecoranddesign.com/decoration/white-christmas-decor-via-centsational-girl-group-items-on-cake-stand-love-the-silver-metallic-table/
https://www.pier1.com/-gold-square-bar-cart/2994157.html
https://www.restorationhardware.com/catalog/category/products.jsp?categoryId=cat7160149
https://www.pinterest.ca/pin/155374255872260850/
https://www.pinterest.ca/pin/199706564700278992/
https://www.pinterest.ca/pin/514888169882714401/
https://i.pinimg.com/736x/b9/62/82/b96282b5dedc7a63b9b6975597a612bb--christmas-front-porches-christmas-planters.jpg
http://comoorganizarlacasa.com/en/christmas-decorating-trends-2017/christmas-decorating-trends-2017-9/
https://www.pinterest.ca/pin/Ac1AcednTU-lneWcUFFW4Dz2w95ata4otPkdKaZu8aCw8aE7S8FeQfc/
https://www.pinterest.ca/pin/ASZoG62Wv891lUdHWeoUt9hlNQVwrJ7F9A2jl0khCNeoqOSy-scpIXk/
https://www.pinterest.ca/pin/76350156160889516/
https://www.pinterest.ca/pin/441352832211773999/