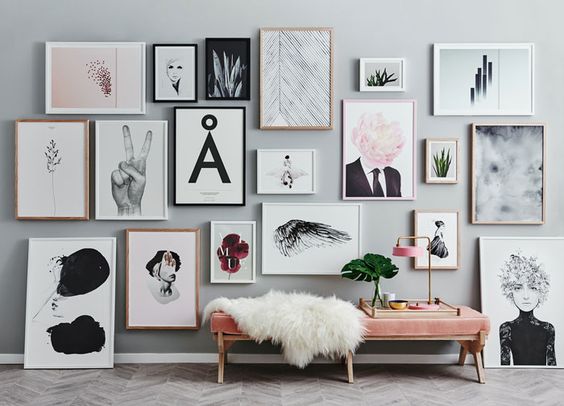 PERSONALIZING YOUR SPACE WITH ARTWORK
Artwork makes a room; there is no question about it. And what brings that concept home is the way you personalize it and make it your own.
One of the easiest and traditional ways to personalize the art in your home is to use your own photographs. Instead of a mix of random photos, try to pick photos that have a common theme or colour to bring the pictures together and create a strong and artistic visual. 
Another great way to personalize your space with artwork is to create a gallery wall. Gallery walls not only look great, but are easy to create! Try combing a mix of personal photos, like family portraits or vacation photos, with other art pieces in your collection to break up and subtly personalize your space.   
The art that you put in your home should mean something to you; however, this doesn't always mean that it has to be photos of you or your family. Picking art pieces that either reflect your style or your values greatly impacts the personality of a room and make it your own!
Have some fun with it and personalize your space with artwork! Whether it is your personal photos or pieces that are meaningful to you, go for it and make it your own! Looking to add some style and panache to your space? We would love to chat. Contact us online or call 403.800.9226.
Photo Credits:
https://www.pinterest.com/pin/7318418128169711/
https://www.pinterest.com/pin/319192692326544334/
https://www.pinterest.com/pin/346988346274853638/
https://www.pinterest.com/pin/702561610591313650/
https://www.pinterest.com/pin/389139224036519436/
https://www.pinterest.com/pin/374009944037794715/
https://www.pinterest.com/pin/ARA6WZwnpFECI5Ch8m55lKqHbhe6gNgDS2-Okz_uXEn0zHbhwknhVfI/